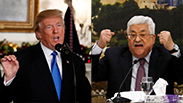 US President Trump (L) and PA President Abbas
Photo: Reuters, AP
A bill which would halt economic aid to the Palestinian Authority until they cease paying stipends to terrorists and to the families of deceased terrorists was passed into law Friday.

The legislation, known as the Taylor Force Act, was named after a 29-year-old American military veteran fatally stabbed by a Palestinian while visiting Israel in 2016.

The act is intended to stop the Palestinians from paying stipends funneled through the Palestinian Authority Martyr's Fund, referred to as "martyr payments," to the families of terrorists killed or imprisoned by Israeli authorities. The payments can reach $3,500 a month.


Force's attacker was killed by the Israel Police, and his killer's family receives such a monthly payment.

The measure has been working its way through Congress for some time. Despite the generally strong pro-Israel sentiment of most lawmakers, it was held up by the concern of some members of Congress that cutting too much aid could lead to increased unrest and instability in the Palestinian territories.

Despite this and general reluctance, mainly by Democrats, against such sweeping punitive measures, in August the US Senate Committee on Foreign Relations passed the bill by a vote of 16-5.

For its part, the Palestinian leadership has vehemently opposes the act, with a close aide to PA President Mahmoud Abbas describing proponents of the initiative as "mad."

Former Palestinian minister of prisoner affairs, Ashraf al-Ajrami, explained to The Media Line that, "This is a very sensitive issue, as the prisoners are considered freedom fighters. The Palestinian people believe there is a right to resist the occupation and thus reject the label of 'terrorist.'"

Al-Ajrami also notes that there are "extremist entities—like Hamas and Iran—that would fill the void if the PA discontinues paying the salaries, and this is not even in the interest of Israel."

The Israeli-American Council (IAC) "wholeheartedly" welcomed the passage of the bill, naming Republican senators Lindsey Graham and Bob Corker and Democratic senator Chuck Schumer for "their leadership on this important bill."

The bill was passed as part of a much larger $1.3 trillion spending measure after Trump reluctantly signed it, saying he was "very disappointed" in the package, in part because it did not fully fund his plans for a border wall with Mexico and did not address some 700,000 "Dreamer" immigrants who are now protected from deportation under a program that he has moved to eliminate.

Trump said he had signed the measure, despite his qualms on some issues, because a $60 billion increase in military spending had convinced him it was a worthwhile compromise.

"But I say to Congress I will never sign another bill like this again," he told reporters. "I'm not going to do it again."

Lior Mor, The Associated Press and Reuters contributed to this report.