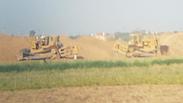 Some of the tools used in the barrier's construction
Photo: Barel Efraim
Four Palestinians attempted to sabotage IDF heavy equipment
Attempting to disrupt the new underground anti-tunnel barrier being built by the IDF, four Palestinians cross the border from Gaza and attempt to set fire to heavy equipment used in its construction; in response, IAF attacks Hamas training camp in Rafah.
Four Palestinians entered Israel from the Gaza Strip near Kibbutz Kissufim and attempted to torch heavy engineering equipment used for the construction of the underground anti-tunnel barrier.

An IDF force approached them and the four fled back to the Gaza Strip.

There were no casualties and only minor damage was caused to the heavy equipment.

Palestinians try to sabotage IDF engineering machinery

Israel Air Force fighter jets attacked a target at a Hamas training camp in Rafah in the southern Gaza Strip overnight Saturday in response to the incident.

The IDF "warned of any incidents in which civilians are called to hold 'protests' used as cover to damage security infrastructure and to attempts to hurt Israeli citizens or IDF soldiers."

A preliminary investigation revealed that the four arrived at an engineering complex near the border, were large IDF heavy equipment used to build the new subterranean Gaza barrier are kept.

They then tried to set the tools on fire with gasoline tanks they brought with them, fleeing when they saw an IDF patrol team headed their way.

The footage of the incident shows the Palestinians were able to infiltrate dozens of meters into Israel and enter the engineering complex, which was unguarded since no construction work is done on Shabbat. It is possible, however, that the four didn't know the place would be unguarded and merely took the risk.

The IDF sees this amateurish and brazen attempt as mostly a symbolic one, meant to inflame the tensions in the area ahead of the large protest organized by Hamas, which is set to take place at the border this coming Friday. Nevertheless, the IDF still sees this incident as severe compared to other past Palestinian infiltrations.

A military engineering force that arrived at the scene ruled out the possibility the four planted an explosive device there, while the IDF said the group only spent a short time at the complex and was unable to cause any damage to military infrastructure or vehicles.

The IDF's Gaza Division will be reinforced as part of the preparations for the mass protests.

The Coordinator of Government Activities in the Territories (COGAT), Maj. Gen. Yoav Mordechai, slammed Hamas ahead of the planned demonstration, warning the terror organization of exploiting it for their own ends.

"Hamas has failed to manage the Gaza Strip and puts its needs ahead of those of its citizens," he wrote in a Facebook post. "Because of its distress, it encourages the population to demonstrate and disrupt order along the border."

Mordechai then warned Hamas of using the demonstrations to damage border infrastructure and attempt to infiltrate Israel, saying the IDF will "work hard" against any such attempt.