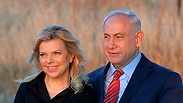 PM Netanyahu and Sara Netanyahu
Photo: Kobi Gideon/GPO
PM grilled for four hours in Bezeq probe
PM Netanyahu concludes 4 hours of questioning under caution in Case 4000; police also wrap up separate questioning session for Sara and Yair Netanyahu; grilling was the first time the couple were confronted with testimony provided by state's witness Nir Hefetz.
Prime Minister Benjamin Netanyahu was interrogated for four hours on Monday as part of the Bezeq corruption case, while his wife Sara and son Yair was also questioned in the affair.

The Netanyahu couple, questioned separately but simultaneously under caution, were presented for the first time with details revealed in testimony given by their former media advisor, Nir Hefetz, who recently signed a state's witness agreement in the case.

Mr. and Mrs. Netanyahu were also questioned on suspicion of obstructing the investigation, based on Hefetz's testimony.

While the prime minister was questioned in the official residence in Jerusalem, his wife was summoned to the offices of the police's Lahav 433 investigations unit, while their son Yair was questioned for the first time at the Israel Securities Authority's offices.

State's witnesses Hefetz and former Communications Ministry director-general Shlomo Filber were both present at the Lahav 433 offices during the Netanyahu family's questioning.

Retiring Bezeq CEO Stella Handler and Bezeq majority shareholder Shaul Elovitch were also be questioned.

David Sharan, the former chief of staff at the Prime Minister's Office, also arrived at the Lahav 433 offices on Monday and gave his testimony.

Following his questioning, Netanyahu posted a video on Facebook, repeating his regular response: "There will be nothing, because there was nothing."

"I want to wish you all a happy and kosher Passover. Enjoy it with your families. I'll enjoy it with my family. I will celebrate this holiday with great joy, with great confidence, with a lot of haroset and zero bitter herb," he said, referring to two traditional foods on the Passover table.

The couple were supposed to be questioned in the investigation, also known as Case 4000, last week. However, it was postponed until Monday due to the prime minister falling sick.

Over the last two weeks, Hefetz has sat with investigators who have compiled masses of testimony relating to the case, which erupted in February when the Israel Securities Authority completed its inquiry into Elovitch's ties with Netanyahu and the suspicion he enjoyed benefits for Bezeq in return for favorable coverage of Netanyahu on the Walla! News website, which is fully owned by Bezeq.

Hefetz allegedly presented evidence to the interrogators, some of which are backed up by documents and recordings about the behind-the-scenes moves.

He identified himself as the individual who acted as the liaison between the Netanyahu family and Walla! News CEO Ilan Yeshua.

The state's witness also provided his investigators with his cellphone which contained messages from Sara Netanyahu and recordings of other relevant officials. The recordings and messages are believed to buttress suspicions that Elovitch and Netanyahu were engaged in a quid pro quo arrangement.

At the beginning of March, Police investigators questioned Netanyahu under caution for five hours on in the Bezeq affair. Investigators chose not to question the premier on the submarine, probe, however.

While the prime minister was questioned at the official residence in Jerusalem, his wife Sara Netanyahu gave testimony at the offices of the police's Lahav 433 anti-corruption unit in Lod. Her testimony—which was also collected over the course of five hours—then became a questioning under caution.

Last Thursday, Netanyahu accused his detractors of exerting "constant bullying pressure" on law-enforcement bodies to bring him and his support base down.

Speaking at a Likud rally in celebration of the upcoming Passover festival, he told thousands of party members, supporters and MKs that his opponents had failed to depose him democratically, and were therefore employing other tactics.