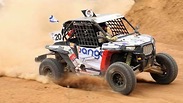 The Abu Dhabi Desert Challenge
Photo: Nimrod Araklis
Israeli drivers race Abu Dhabi Desert Challenge
Dani Pearl and Itai Moldavski are first Israelis to participate in United Arab Emirates off-road race, one of the biggest in the Middle East; while they entered country with Israeli passports at organizers' invitation, the Israeli flag was not displayed on their cars or on publications.
Mere days after a first flight headed to Israel passed over Saudi airspace, another milestones was reached in seemingly defrosting ties with the Arab Gulf states: Dani Pearl, 66, and Itai Moldavski, 51, landed at the United Arab Emirates (UAE) to participate in the Abu Dhabi Desert Challenge car race.

The pair, members of the "Pearl Pango Racing Team," entered the country—with which Israel has no open diplomatic relations—using their Israeli passports accompanied by three team members, all Israelis as well.

"Organizers received us in a warm, embracing manner," Pearl said Saturday. "We can't wait to get on the dunes. The excitement is unexplainable."

While Israeli athletes have previously competed in Abu Dhabi, in previous instances they were only admitted when organizers were forced to do so under duress of being expelled from international organizations should they refuse. In this instance, the Israeli team arrived at the race at organizers' behest.

"We'd like to thank the Emirates Motor Sport Federation and Memsi Israel, representative of the International Automobile Federation, for assisting us in receiving all of the requisite permits," Pearl said.

Organizers, however, had not yet acceded to flying the Israeli flag during the UAE competition. The pair's vehicle, for instance, would not emblazoned with the Israeli blue-white and the Israelis were registered on all official publications as belonging to the UAE.

The Israelis battled to get their vehicle—a Polaris RZR ATV—prepared in time, as it was held up along with other contestants' vehicles due to a shipping company's error. Organizers expended all efforts so the Israeli team could stand on the starting line Sunday morning at the Emirates' Formula 1 track.

The Abu Dhabi Desert Challenge is one of the Middle East's biggest off-road races. This year, 112 vehicles from 29 countries will be participating. Teams will be driving some 450 kilometers every day, of which 300km will be timed, all in 40 degree heat.