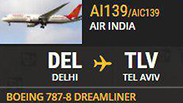 Illustration
Photo: Flightradar24
A commercial airline from India to Israel is scheduled to land in Tel Aviv Thursday evening after flying over, for the first time ever, Saudi airspace, ending a 70-year overflight ban.

With Saudi Arabia granting permission for the first time for use of its airspace for a commercial flight en route to Israel, the Air India Boeing 787 will touch down in Ben Gurion Airport at 9:30pm.

Officially, Saudi Arabia has avoided confirming publicly that it sanctioned the use of its airspace for flights to Israel, but officials at the Indian airline have confirmed in the past that permission was given, enabling travelers to reduce the journey time to 7 hours and slash costs.

Air India has said its flight would be two hours shorter than El Al Israel Airlines' flight to Mumbai from Tel Aviv, which uses a route south towards Ethiopia and then east to India, avoiding Saudi airspace.

El Al has asked industry group IATA to help it access Saudi Arabia's airspace.

Saudi Arabia and Israel have no formal diplomatic ties. The decision by Saudi Arabia to allow the Indian carrier to fly through its airspace to Tel Aviv reflects what is widely believed to be a warming of behind-the-scenes ties between the two countries.

Air India spokesman Pravin Bhatnagar said at the beginning of March that the airline will start flying the route three times a week from March 22.

The change came following a meeting between Prime Minister Benjamin Netanyahu and his Indian counterpart Narendra Modi during the former's visit to India.

Despite the fact that Saudi Arabia remained mute on breakthrough, Netanyahu recently announced that the country had confirmed that Air India would be allowed to fly through its airspace to Israel.

The Indian airline was given by the Israel Ministry of Tourism 750,000 euros (NIS 3.2 million) to operate the direct flight, which reflects another stride in strengthening ties between Israel and India.

According to the Israeli Ministry of Tourism, the lump sum was given on condition that the airline operate at least three flights per week.

Israel's efforts with the Indian airline have precedence in direct flights that began operating by Chinese Hainan Airlines from Beijing to Israel, a move that doubled the number of Chinese tourists heading for Israel last year.

After the first announcement made by Air India on the flights, Saudi Arabia's aviation authority denied in February giving its blessing, but more recently it declined to respond on the matter. The Indian airline also refused to deny or confirm the change.

The first flight tickets went on sale, starting at $367. The price of two round-trip tickets will rise by an average of $710 in the near future.

Earlier on Thursday, Israeli Tourism Minister Yariv Levin said Singapore Airlines and a Filipino airline were exploring the introduction of flights to and from Tel Aviv overflying Saudi Arabia. Singapore Airlines did not immediately comment.

AP and Reuters contributed to this report.