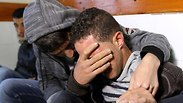 Palestinian mourning death of Samour
Photo: Reuters
A Gaza farmer was killed and a second man was wounded by an Israeli tank shell on Friday, a Gaza health ministry spokesman said, on a day of heightened tensions ahead of planned protests by Palestinians along the border with Israel.

IDF officials confirmed that shots were fired at two suspects who approached the security fence and "carried out suspicious activity" twice throughout the night between Thursday and Friday.

"During the night two suspects approached the security fence in the southern Gaza Strip and carried out suspicious activity on the ground nearby. In response, an IDF force fired at them with a tank," an IDF spokesperson said, describing the second incident that transpired that night.

Palestinian wounded by IDF fire carried of from the scene (צילום: רויטרס)

The IDF added it is checking details reported by the Gaza health ministry regarding the death of the Gazan farmer.

The Gaza health ministry spokesman said the farmer was killed and another wounded near the town of Khan Yunis. Residents there said he was gathering crops to sell later.

"Amr Samour, 27, was martyred and another citizen was wounded as a result of (Israeli) targeting of farmers east of Qarara village," the health ministry said.

Yasser Samour, a relative and fellow farmer who witnessed the incident, said Amr was harvesting parsley before dawn, in hopes of selling it fresh in the market later in the day.

"I was working on the next field," Samour said. "We heard shelling landing on the field where Amr works. We ran there and found him hit directly with a shell. We were more than a kilometer away from the border."

Another farmer was wounded in the leg by shrapnel, he added.

Palestinians in the Gaza Strip are planning to begin a six-week-long tent city protest to demand Palestinian refugees be allowed to return to what is now Israel.

Israeli security forces are on heightened alert. Israel's military chief said in an interview on Wednesday more than 100 sharpshooters had been deployed on the Gaza border ahead of the planned mass demonstration near the frontier.

Organizers from a number of factions, including Islamist Hamas, which dominates Gaza, hope thousands will answer their call to flock to tent cities in five locations along the sensitive border to call for a right of return of Palestinian refugees to what is now Israel.

The Israeli military, citing security concerns, enforces a "no go" zone for Palestinians on land in Gaza adjacent to Israel's border fence.

The March 30 date for the start of the protest marks "Land Day" commemorating the six Arab citizens of Israel who were killed by Israeli security forces during demonstrations in 1976 over government land confiscations in northern Israel.

It is due to end on May 15, the day Palestinians call the "Nakba" or "catastrophe," marking the displacement of hundreds of thousands of Palestinians in the conflict surrounding the creation of Israel in 1948.

Elior Levy and Yoav Zitun contributed to this report.