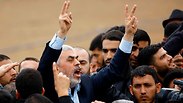 Hamas leader tells Gazans: No making peace with 'the enemy'
In visit to 'March of Return' protest tents, Gaza's Hamas chief Yahya Sinwar says his group is with the marchers, jokes that the unemployed have found work on Israel's border, 'burning your equipment and sniping you at point blank range'; Haniyeh hints, at next march they may not stop at the border.
Hamas leader in the Gaza Strip Yahya Sinwar visited protest tents on the Israel-Gaza border Sunday to tell protesters who took part Friday in the "March of Return" that his terror movement is with them, and that there is no making peace with "the enemy."

"We have come here to say that Hamas is not sitting in palaces or in tunnels, we have come to say that we are with you. We are here to remind that there is no peace with the enemy and any attempt or plan will not compel us to make peace with them," Sinwar said, escorted by his entourage.

Turning to Israel, he quipped that the rampant unemployment in Gaza had been remedied on the border with Israel.

"The unemployed have found work on your borders, to burn your equipment and snipe at you at point blank range," he said in reference to the IDF thwarting an attempt by a terror cell to carry out a shooting attack at the northern Gaza Strip on Friday evening.





Head of the Hamas's Political Bureau Ismail Haniyeh, also warned Sunday that the next protest in the "March of Return" will not necessarily stop at Israel's border.

"On Friday we stopped at the border, next time we don't know where the border will be. The March of Return took place peacefully and was attended by women, youth, children and the elderly," he said.

"The enemy's murder of our children and youth was pre-planned. Our nation cannot tolerate this continued siege."

Over the last two days in Gaza, close-up photo shots of Israeli snipers positioned on the Gaza border have been published, next to the caption: "You are also in our crosshairs."

Violence broke out on Friday after tens of thousands of people in the Gaza Strip marched near the Israeli border.

Over 1,400 people were also wounded, 758 of them by live fire, with the remainder hurt by rubber bullets and tear gas inhalation, the Gazan health ministry said.