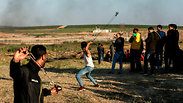 Clashes on the Gaza border on Saturday
Photo: AFP
A 29-year-old Gaza man has died of injuries from IDF fire during last week's violent rioting along the Gaza border with Israel, bringing the death toll to 17, the Palestinian Health Ministry said Monday.
Islamic Jihad said Fares al-Ruqab was a member of its military wing. The Palestinian news agency Ma'an reported he was shot in the stomach with live ammunition in the eastern Khan Yunis area.
Violence broke out on Friday after tens of thousands of people in the Gaza Strip marched near the Israeli border. Over 1,400 people were wounded, 758 of them by live fire, with the remainder hurt by rubber bullets and tear gas inhalation, the Gazan health ministry said.
Defense Minister Avigdor Lieberman said soldiers opened fire only when necessary against those throwing stones and Molotov cocktails or rolling burning tires at soldiers.
The IDF said Saturday that at least ten Palestinians out of the 16 killed by Israeli gunfire on the Gaza border Friday were terrorists, eight of which were members of Hamas, which said earlier that day only five of which were its members.
On Sunday, the outgoing Coordinator of Government Activities in the Territories, Maj. Gen. Yoav Mordechai, confirmed Israel was holding the bodies of two of the terrorists who opened fire at IDF forces on Friday in the northern Gaza Strip.
The army has been preparing for an increase in attempted infiltrations from the Hamas-ruled enclave after a series of failed and successful attempts, and heightened tensions following the "March of Return" attended by tens of thousands of Palestinians on the border on Friday.
The IDF made it a top priority to prevent the successful crossings by Gazans, while saying that it was endeavoring to keep the number of Palestinian fatalities to a minimum.
Security was beefed up on the volatile border after last week the IDF arrested three Palestinians armed with knives and grenades after they had infiltrated Israel from the Gaza Strip. The terrorists were caught in the Tze'elim area, about 20 kilometers from the Gaza border.