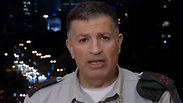 COGAT Maj.-Gen. Mordechai
COGAT reveals Hamas threats against bus company owners
Recordings unveiled by COGAT shows Hamas strong-arm tactics against bus company owners forced to ferry protesters to fence riots; measures include threats, arrests and sending Hamas drivers to commandeer buses; 'Hamas using terrorism against its own people,' COGAT Mordechai says; in embarrassing Facebook post, Palestinian news site posts photo of Grey's Anatomy star Katherine Heigl, says 'French doctor' en route to Gaza to help wounded protesters.
Coordinator of Government Activities in the Territories (COGAT) Maj.-Gen. Yoav Mordechai published a recording Thursday evening on COGAT's Arabic-language Facebook page that revealed the manner in which Hamas is strong-arming executives of local bus companies to ferry rioters and terrorists to participate in border protests.

"In a talk a COGAT officer held with a representative of a bus company from the strip, a horrifying sequence of events emerged: threats, arrests, impounding and even sending Hamas-affiliated drivers to force bus companies to bring rioters to violent clashes near the border with Israel," Mordechai posted.

"This is the true face of the terror organization that claims the violent riots are spontaneous. Hamas is also using terrorism against its own people, and we have further proof of that," he concluded.

In the recording, the owner of a Gaza transportation company is heard telling the officer, "They came in, arrested us and pressed charges. They told me they wanted to lock me up and brought in other drivers. They said they wanted to impound my buses. What was I supposed to do?"
Israel warns bus company owners away from transporting protesters
Last week, COGAT sent a message to Hamas and owners of local bus companies alike, warning them to refrain from cooperating with the terror group ruling the isolated enclave and transporting residents to the fence to attend last Friday's protests.

The recording, sent to owners of bus companies, said in part, "Anyone approaching the border is risking their lives. As far as we're concerned, if the bus company you own takes part in transporting protesters (to the fence), you and your family will bear personal responsibility."

Owners were then told that if they enjoyed any relief measures in the past, they will be annulled should they choose to cooperate with Hamas.

Giving an interview to Arab television channel al-Hura, COGAT Mordechai said, "We will take harsh steps against any attempt by protesters to try and harm the security fence or to break into Israeli territory."

"The Israeli response will be severe, and will not be directed exclusively at protesters. All options are on the table," he warned.

During the interview, the senior IDF officer said the army warned bus companies' owners and that "personal steps will be taken against anyone using buses to attend violent protests and against the company they own."

"We have contacted more than 20 administrators of bus companies Hamas paid to encourage people who did not want to leave their homes to attend these violent riots," he concluded.
Palestinian media outlet mistakenly says Grey's Anatomy star to provide aid to Gazans
In lighter news, a Palestinian media outlet was ridiculed after publishing a post saying, "A French doctor arrives in the Gaza Strip to offer medical help to the wounded Palestinian protesters" but enclosing a photo of American actress Katherine Heigl in her role as Dr. Izzie Stevens on the TV series Grey's Anatomy.

Heigl is neither French nor an actual doctor.

The Palestinian Information Center, a Palestinian news site affiliated with Hamas whose Facebook account has more than 500,000 followers, published the erroneous post Wednesday.

Commenters were quick to point out the embarrassing mistake. One of them called the people working for the Gaza-based organization "absolute morons", while others wondered whether hackers took over their Facebook account.

The site later deleted the post, calling it a "terrible mistake."

"We wholeheartedly apologize to our friends and followers for the news item which included the picture of actress Katherine Heigl that described her as a French doctor. The post has since been deleted as we are committed to truth and credible news," another post by the Palestinian Information Center said.

Other commenters took a more jocular vein, with one posting a photo of famed Hollywood star Sylvester Stallone in his role as Rambo with the caption, "An American soldier arrives in the Gaza Strip to offer military help to Palestinian protesters."

Far from a laughing matter, 17 Palestinian protesters were killed last Friday during Land Day protests near the Gaza border fence, with the IDF and Shin Bet saying 11 of them were terrorists.

Palestinians are now preparing for another mass protest Friday, titled "Friday of the tires", in which they intend to burn enormous amount of tires.