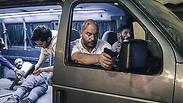 Fauda on Netflix
Photo: Netflix
BDS campaign sets sights on taking Fauda off the air
Calling on content streaming giant Netflix to 'nix Fauda,' BDS says Israeli-made thriller 'glorifies Israeli war crimes', influenced by creators' experiences in 'Israeli death squads'; 50 Hollywood executives pen open letter in support of Netflix, series, decry 'blatant attempt at artistic censorship.'
After focusing their efforts on convincing artists to abstain from performing in Israel, the Boycott, Divestment and Sanctions (BDS) movement has turned to television, inaugurating a campaign last week attempting to coerce content streaming platform Netflix to take Israeli thriller Fauda off the air.

Fauda is an Israeli-made television thriller set in the West Bank about an Israeli undercover agent who comes out of retirement to hunt for a Palestinian terrorist.

The show, which features dialog in both Hebrew and Arabic, was first broadcast on Israeli television in 2015 and premiered on Netflix in December 2016. Netflix is due to release the second season in May.

In a posting on its website last week, BDS called on Netflix to "nix Fauda," saying the series "glorifies the Israeli military's war crimes against the Palestinian people. The series' creators used their experiences in (the IDF's) Mista'arvim units, which are the occupation army's death squads."

"Failing to (remove Fauda) will open Netflix to nonviolent grassroots pressure and possible legal accountability," the posting added.

Lior Raz, who created the series along with Avi Issacharoff and also has a starring turn, responded by saying, "The BDS movement interests us like yesterday's news. We will continue creating quality programs and bringing enjoyment to viewers around the world, and in the Arab world as well."

Fauda Co-creator Issacharoff wished to thank the BDS movement, "thanks to which the Palestinians that have yet to watch Fauda will now find a way to do so."

"I was speaking to a Gazan friend of mine," Issacharoff added, "who could not stop extolling the series' first season. He has not yet watched the second, because it isn't up on Netflix yet. It's unfortunate to see the BDS movement's efforts to damage Israeli creation, regardless of its content."

Raz offered concluding remarks, saying, "We'd like to thank (BDS) for the PR campaign for our show. I just received an email from a girl in Turkey who claimed she hated us Israelis until she watched Fauda, and after watching it could finally understand the conflict's complexity. She sent us her regards and wishes that we continue doing what we're doing."

Support for Netflix and the Israeli show also came from Hollywood, with more than 50 executives throwing their support behind the content streaming giant.

In a letter on Tuesday to Netflix chief content officer Ted Sarandos, the executives from record labels and Hollywood talent agencies called the move by the BDS movement a "blatant attempt at artistic censorship."

In its letter of support, the US-based Creative Community for Peace called Fauda a "nuanced portrayal of issues related to the Israeli/Palestinian conflict."

"We want you to know that we stand behind you and Netflix in the face of this blatant attempt at artistic censorship," the letter said. Signatories included Universal Music Publishing Group Chief Executive Jody Gerson, Geffen Records president Neil Jacobson and Steve Schnur, music president at videogame producer Electronic Arts.

The campaign against Fauda is the latest move since 2005 by BDS to promote a global cultural boycott against Israel.

It has succeeded in recent years in dissuading a number of music acts, including Pink Floyd frontman Roger Waters, Elvis Costello and New Zealand singer-songwriter Lorde, from performing in Israel.

Reuters contributed to this report.