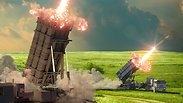 Illustration of SkyCeptor in action
Photo: Raytheon
Israeli defense technology company Rafael Advanced Defense Systems has said its $1 billion deal with Poland was not adversely affected by the political spat between the two countries over a recently passed contentious law barring ascribing culpability to Poland for the Holocaust.

"The deal with Poland is progressing, we are happy that our interceptor (missiles) was chosen … by the Poles," said Rafael CEO Maj. Gen. (ret.) Yoav Har-Even.

The deal will see Poland purchasing eight Patriot missile defense systems from US defense contractor Raytheon, worth up to $7.6 billion, along with interceptor missiles from Israel's David Sling system, worth approximately $1 billion.

If cemented, it will be the one of the biggest deals in the Rafael's history. Poland, meanwhile, will become the first export client of David Sling's interceptor missile.

Poland demanded the Israeli interceptor missile, which was developed with Raytheon and is marketed in the world under the name "SkyCeptor," because of its better performance compared to the American Patriot interceptor and its considerably lower price, which stands at only 10 percent of the price of the American counterpart—$450,000 compared to $4.5 million.

With the approval of the Israeli Defense Ministry and the American Department of Defense, Raytheon agreed to another Polish demand to have the missiles manufactured on its soil.

The weapons deal was left in limbo after Poland passed legislation earlier this year penalizing suggestions of any complicity by Poland in the Nazi Holocaust on its soil during World War II, provoking an uproar in Israel and creating a rift between the two states, which remains still largely unresolved.