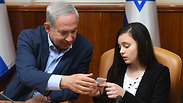 Netanyahu with IDF orphans
Photo: Gov. Press Office
Netanyahu tells IDF orphans about his brother Yoni
The prime minister meets with bereaved siblings, orphans of fallen IDF soldiers ahead of Memorial Day, listening to their personal stories of loss and sharing his feelings on the loss of his brother Yoni at Entebbe: 'My brother continues to live within me.'
Prime Minister Benjamin Netanyahu met Sunday with bereaved siblings and orphans of fallen IDF soldiers ahead of Memorial Day for the Fallen Soldiers of Israel and Victims of Terrorism.

During the meeting, organized by Yad LeBanim and IDF Orphans and Widows organizations, Netanyahu listened to the children's personal stories of loss and shared his feelings about the loss of his brother Yoni, a commando who was killed during the Entebbe Operation to rescue Israeli hostages in 1976.




Mai Goldmacher, who lost her brother Nadav during the 2014 Operation Protective Edge, shared a letter she wrote to her brother: "It is true that you are no longer here with us physically, but in my heart and dreams you exist."

The prime minister told her, "That is the secret, they continue living within us. My brother continues to live within me just as you described."

Talking about his brother Yoni, Netanyahu said, "I was a little bit older (than you are now) when my brother fell, I was 27. There were many letters he wrote to people, they were given to us and we turned them into a book. That was mainly what we did for the first year. It really helped me, it gave me something to do."

"Therefore, your activities are important, not just in your studies and otherwise, but also activities related to this. The fact you partake in activities related to grief is not a bad thing, it is fine, it really helped me," Netanyahu added.

"You know the enormity of the loss, so you can also appreciate life. I will tell you something that sounds strange, but each and every one of you will be able to overcome many problems in life because you will persevere," the prime minister concluded.