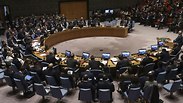 UN Security Council
Photo: AFP
US wants UN vote on Syria gas attack inquiry
Proposal for new inquiry into chemical weapons use in Douma expected to be vetoed by Russia; UN expert says this is 'a diplomatic set-up,' for Washington to justify military strikes in Syria; 'The world must see justice done,' US ambassador Haley says at Security Council meeting, while Russia claims attack 'staged.'
UNITED NATIONS - The United States plans to call for a UN Security Council vote on Tuesday on a proposal for a new inquiry into responsibility for use of chemical weapons in Syria after reports of a poison gas attack on a rebel-held town, diplomats said.

After President Donald Trump warned on Monday that there would be a "big price to pay" for the suspected attack over the weekend, the United States circulated to the 15-member council a revised draft resolution to establish an international inquiry, which it initially suggested on March 1.

If the US text, which was seen by Reuters, is put to a vote, diplomats said it would likely be vetoed by Syrian ally Russia. A resolution needs nine votes in favor and no vetoes by Russia, China, France, Britain or the United States to pass.

The council met publicly on Monday over the latest suspected chemical weapons attack. In closed-door discussions that followed, US Ambassador to the United Nations Nikki Haley said she planned to put the draft resolution to a vote on Tuesday, said diplomats, who requested anonymity.

At the public meeting, Haley said, "The world must see justice done," adding that the United States would respond to the chemical weapons attack in Syria regardless of whether the Security Council acted or not.

"History will record this as the moment when the Security Council either discharged its duty or demonstrated its utter and complete failure to protect the people of Syria," she noted. "Either way, the United States will respond."

Haley at the UN Security Council meeting (צילום: רויטרס)

The US is determined to "see that the monster who dropped chemical weapons on the Syrian people is held to account," Haley went on to say.

"This is basically a diplomatic set-up," said Richard Gowan, the UN expert at the European Council on Foreign Relations.

"Russia will inevitably veto the US resolution criticizing Assad, and Washington will use this to justify military strikes," he said. "A breakdown at the UN will also make it easier for France to justify strikes."

Washington bombed a Syrian government air base last year over a toxic gas attack.

A Syria medical relief group said that at least 60 people were killed and more than 1,000 injured at several sites in the attack on Douma on Saturday. Russia and Syria said there was no evidence that a gas attack had taken place.

Russian UN Ambassador Vassily Nebenzia accused the United States, France and Britain of stoking international tensions by engaging in a "confrontational policy against Russia and Syria."

He told the council, "A broad arsenal of methods is being leveraged—slander, insults, hawkish rhetoric, blackmail, sanctions and threats—to use force against a sovereign state.

"Russia is being unpardonably threatened. The tone with which this is being done has gone beyond the threshold of what is acceptable, even during the Cold War."

Nebenzia said Moscow had told the US that it would not allow its forces on the ground in Syria to be put at risk and called a US military option "very, very dangerous," not only for Syria itself but for the world.

"Armed force under mendacious pretext against Syria, where, at the request of the legitimate government of a country, Russian troops have been deployed, could lead to grave repercussions," Nebenzia said.

He urged inspectors from the Organization for the Prohibition of Chemical Weapons (OPCW) agency to fly to Syria's capital Tuesday and visit the site in a nearby rebel-held town. He denied any attack occurred, telling the Security Council that experts from Russia's military radiological, biological and chemical unit went to the site and found no chemical substances on the ground, no dead, and no poisoned people in hospitals.

"The staged nature of this action is something of which we have no doubt," he said.

A previous joint inquiry of the United Nations and the OPCW had found the Syrian government used the nerve agent sarin in an April 2017 attack and has also several times used chlorine as a weapon. It blamed Islamic State militants for mustard gas use.

That inquiry ended in November after Russia blocked for the third time in a month attempts by the UN Security Council to renew its mandate for another year. Moscow slammed the joint UN and OPCW inquiry as flawed.

Russia proposed its own draft resolution in January to create a new investigation.

In response to Haley's push for a vote on Tuesday, Nebenzia told the council behind closed doors that he, too, could put his draft to a vote.