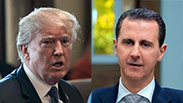 US President Trump and Syrian President Assad
Photo: AP, AFP
Trump promises decision 'very quickly' on Syria response
US President condemns 'heinous attack' on Saturday in Douma, saying 'nothing is off the table' with regards to American response; 'If it's Russia, if it's Syria, if it's Iran, if it's all of them together—we'll figure it out. Everybody's going to pay a price,' he says.
US President Donald Trump said Monday he will decide on a US response to the suspected chemical weapons attack on Syrian civilians "probably by the end of today."

Speaking during a Cabinet meeting, Trump condemned the "heinous attack" Saturday that killed at least 40 people, including children. "It was an atrocious attack," he said. "It was horrible." He said he will be huddling with military advisers to consider US options and "nothing's off the table."

Trump said the US is still investigating the possible involvement of the Iranian and Russian governments in the strike.

"If it's Russia, if it's Syria, if it's Iran, if it's all of them together—we'll figure it out," he said. He added of Russian President Vladimir Putin, "everybody's going to pay a price—he will, everybody will."

Trump planned two meetings with senior national security aides Monday on Syria, in addition to a previously scheduled late-afternoon White House conference with leaders of U.S. military commands around the world. Monday was the first day on the job for Trump's new national security adviser, John Bolton, who has previously advocated military action against Syria.

Trump talks about Syria response (צילום: רויטרס)

Over the weekend Trump threatened a "big price to pay" for the suspected poison gas attack.

Officials in Washington were seeking to verify early reports by rescuers and others that the Assad government was culpable. The Russian military, which has a presence in Syria as a key Assad ally, said its officers had visited the site in a suburb of Damascus, the Syrian capital, and found no evidence to back up reports of poison gas being used.

Earlier Monday, Defense Secretary Jim Mattis took aim at Russia for what he suggested was its failure to meet its obligation to ensure the elimination of Syria's chemical weapons arsenal. The Pentagon chief said he would not rule out a US military strike against Syria in response to a suspected poison gas attack.

"The first thing we have to look at is why are chemical weapons still being used at all when Russia was the framework guarantor of removing all the chemical weapons. And so, working with our allies and our partners from NATO to Qatar and elsewhere, we are going to address this issue," Mattis said before the start of a meeting with Qatar's Emir.

Mattis had been asked if the US was capable of striking President Syrian President Bashar Assad's chemical weapons facilities.

When asked if he could rule out taking actions, like launching airstrikes against Assad, Mattis said: "I don't rule out anything right now."

The US military has a wide range of warplanes and other capabilities in the Middle East. They include sea-launched cruise missiles aboard ships within range of Syria.

The Syrian government denied its forces had launched any chemical assault, and Russian Foreign Minister Sergei Lavrov said such allegations were false and a provocation.

A deadly sarin attack on a rebel-held area prompted Trump to order a missile strike last year on the Shayrat air base.

Assad is believed to have secretly kept part of Syria's chemical weapons stockpile despite a US-Russian deal under which Damascus was supposed to have handed over all such weapons for destruction in 2014, officials have said in recent months
France, Britain urge response to attack
Calls grew on Monday for an international response to the alleged attack. The crisis was due to be discussed later Monday at an urgent UN Security Council meeting, with the US and France promising a "strong, joint response" to the suspected gas attack on Saturday in Douma, a battered opposition-held town near Damascus.
French President Emmanuel Macron's office said he and Trump had shared information "confirming" the gas attack.
Britain was the latest country to urge action on Monday, with Foreign Secretary Boris Johnson calling for a "strong and robust international response".
Russia, which has repeatedly said that rebels in Syria could be a preparing a "provocation" to prompt foreign military action, warned against jumping to conclusions.
"It's necessary to examine very carefully what happened in Douma. And it goes without saying that without this information, making any deductions is wrong and dangerous," Kremlin spokesman Dmitry Peskov told journalists.
Investigation launched
Rescuers and medics in Douma say at least 48 people died after a "poisonous chlorine gas attack" late on Saturday in Douma, the last rebel-held pocket of the onetime opposition stronghold of Eastern Ghouta.
Access to the area, which has faced weeks of regime bombardment, is limited and there has been no way to independently verify the accounts.
The Organization for the Prohibition of Chemical Weapons, a UN watchdog, said it was investigating the allegations but that so far only a "preliminary analysis" had been carried out.
Aftermath of alleged chemical attack in Douma (צילום: רויטרס)
Russian Foreign Minister Sergei Lavrov said Russian experts had visited the site of the alleged attack and "did not find any trace of chlorine or any other chemical substance used against civilians".
Both Damascus and Moscow had warned against using the allegations to justify military action against President Bashar Assad.
It briefly appeared in the early hours of Monday that action had been taken, as Syrian state media reported missile strikes on an airbase, but blame later fell on Israel which has carried out repeated strikes on regime targets.
Initially pointing the finger at Washington, state news agency SANA said the missiles had hit the T-4 airbase in central Syria.
Washington and Paris denied having carried out the strikes and SANA and the Russian army said later that Israeli F-15s had fired several missiles at the base from Lebanese airspace.
The Syrian Observatory for Human Rights, which monitors the country's conflict, said 14 fighters were killed, including Syrian army officers and Iranian forces.
Israel declined to comment on the latest strike.