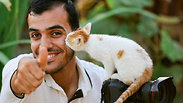 Defense Minister Avigdor Lieberman said Tuesday that a well-known Gaza journalist who was killed by Israeli gunfire over the weekend was a member of Hamas, an allegation denied by the Islamic terror group and the journalist's family.

Yasser Murtaja died from a gunshot wound while filming a mass demonstration near the fence with Israel on Friday in an area engulfed in thick black smoke from Palestinians setting tires on fire.

Hamas has called for Palestinians to amass at the border as part of a weeks-long campaign of protests against a decade-old Israeli and Egyptian blockade of the territory. It also has suggested that it may attempt a mass border breach.

Israel is closely guarding the fence and has warned it will not tolerate attempts to breach it. Twenty-six protesters have been killed and hundreds wounded since the protests began March 30. Israel says it has only fired at "instigators" trying to carry out attacks.

Murtaja was shot while carrying a video camera and wearing a flak jacket marked with the word "press."

Speaking to reporters Tuesday, Lieberman said that Murtaja was a "terrorist" who had been on the Hamas payroll since 2011. He said Murtaja had used a drone to collect intelligence on Israeli forces along the border.

"This is a member of the military arm of Hamas who holds a rank parallel to that of captain, who was active in Hamas for many years," Lieberman said. "Once again we see how Hamas uses the media, ambulances and patients, including cancer patients who are sent to hospitals in Israel," to carry out "terrorist missions."

Lieberman provided no evidence to support his allegations. Israel's military said it is still investigating and was not able to confirm Lieberman's claims.

Prior to linking Murtaja to the terror organization, Lieberman argued that "Anyone who operates multirotor drones over IDF soldiers needs to understand he is endangering himself."

"What we saw over the past two weeks is a parade of terrorism," Lieberman said on Saturday during Mimouna celebrations in Ashkelon. "Members of Hamas's military wing, dressed as civilians, tried to hurt Israel's citizens and its sovereignty, and we won't allow it."

"We saw dozens of cases in which Hamas terrorists used ambulances, dressed up as Red Crescent workers, and dressed up as journalists," he continued. "We won't take any risks."

Murtaja, 30, was the co-founder of Ain Media, a local TV production company that has done projects, including aerial drone filming, for foreign media clients such as the BBC and Al-Jazeera English.

The State Department said Tuesday that the media production company had recently received an $11,700 grant from the US government. Ain Media became a USAID program beneficiary last month under a program that supports private sector development. The State Department said the grant was still in its early stages, and no equipment or technical assistance has been provided.

It said the grant was vetted according to strict US government requirements of USAID-funded assistance.

Murtaja had been hired to begin work for the Norwegian Refugee Council, a major international aid organization. The group released footage showing what it described as his "last work." He died two days before he was to start his new job.

The footage, taken at a protest a week earlier, shows several aerial shots of tires being set on fire near the border fence, wounded protesters being rushed to medical tents as well as other shots, apparently taken from the ground, of an Israeli tank and Israeli troops off in the distance.

The NRC's secretary-general, Jan Egeland, called Murtaja's death "heartbreaking," and has called for accountability for "the shooting of an innocent civilian."

In Gaza, Murtaja's brother, Mutasem, angrily denied Lieberman's claims.

"He spreads lies to get himself out of the impasse," he said. "Yasser was filming the protests with simple cameras to show they are peaceful."

At the funeral Saturday, Murtaja's body was draped in a Palestinian flag with his flak jacket reading "press" placed upon it as it was carried through the streets of Gaza.

Hamas' leader, Ismail Haniyeh, attended the funeral in a sign of respect. But no gunmen were visible at the ceremony, as is common when members of militant groups are buried.

Hamas, a militant group sworn to Israel's destruction, has called for the protests to continue until May 15, the anniversary of Israel's founding, when Palestinians commemorate their displacement during the 1948 war over Israel's creation.

Hamas hopes the protests can create pressure to break a border blockade enforced by Israel and Egypt since 2007, when Hamas took over Gaza, without the militant group being forced to disarm.

Israel has accused Hamas of using the recent protests as a cover for carrying out attacks and trying to infiltrate Israel. It has said some of those at the border tried to damage the fence, planted explosives or hurled fire bombs. The army says it uses live fire as a last resort, and only on attackers.