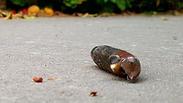 Illustration
Photo: Roee Idan
IDF hits Hamas target, terror group hits Israeli home in return fire
Israeli jets attack military compound in retaliation for explosive device detonated near IDF border patrol; after terror cell responds with live fire, triggering 2 Code Red sirens in neighboring Israeli towns and hitting a home, IDF strikes again, killing one operative and seriously wounding another.
Israeli fighter jets attacked overnight Wednesday a Hamas terror position in the northern Gaza Strip in retaliation for an explosive device that detonated Wednesday morning near an IDF force on the border.

After the attack, a terror cell in the strip fired bullets at the aircraft, triggering two Code Red alert sirens in Israeli towns neighboring the northern sector of the Hamas-ruled enclave.

One bullet fired from the strip hit the roof of a home in an Israeli community. No one was hurt in the incident.

Hamas fires on Israeli military jets

The device that detonated in the early hours of Wednesday, which was planted east of Sujjaiya near the Karni Crossing, was the latest in a string of similar incidents as tensions have escalated in recent weeks on the Gaza border. No one was injured in the bombing.

The Israel Air Force (IAF) again responded to the gunfire, killing Mohamed Hajila, a Hamas's military operative, and seriously wounding another.

The IDF later confirmed that it had carried out the attack against a Hamas military compound.

"After the IDF attack in the Gaza Strip, a cell of terrorists fired at the jets which did not hit or cause damage. The gunfire activated Code Red sirens," an IDF statement said two hours after the sirens blared in the region.

"The IDF, using aircraft, attacked the cell. The IDF sees the Hamas terror group as being responsible for all terror activities emanating from the Gaza Strip, and will act firmly against any attempt to carry out terror attacks against the citizens of Israel or IDF forces acting to defend them," the statement continued.

The first Code Red siren was sounded at 1:33 am, followed by the second at 1:36 am in the Negev and Sdot Negev Regional Councils, an hour after Palestinian reports surfaced about the IAF attack.

Over recent weeks, Hamas has attempted to shoot down Israeli drones using heavy gunfire.