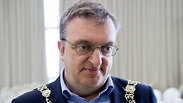 The Irish Ambassador to Israel Alison Kelly was summoned to the Foreign Affairs Ministry Thursday after the Mayor of Dublin Lord Mícheál Mac Donncha attended an anti-Israel event in Ramallah, also to express Israel's dissatisfaction over two unfavorable resolutions adopted this week by the Dublin city council.

The deputy director General of the European Department at the Foreign Affairs Ministry expressed her astonishment and deep disappointment at the fact that the mayor chose to participate in a blatantly anti-Israeli event, especially in light of the timing of the event—the week Israel is marking Holocaust Remembrance Day.

It was made clear to the ambassador that the government of Israel expected a public and official Irish response to the conduct of the capital city council in general and its mayor in particular, both of which were conducting a campaign of discrimination and hatred against the State of Israel, it was said.

The Dublin mayor attended an international conference called the "Beit al-Muqadis Conference." The conference convenes every year (this is the ninth year), and its most senior participant is Palestinian President Mahmoud Abbas. The conference deals with the place of Jerusalem for the Palestinians and the Islamic nation in general. The title of the conference this year, following the Trump declaration of Jerusalem as Israel's capital is "Jerusalem - the eternal capital of the State of Palestine."

Lord Mac Donncha, who led a decision to expel the Israeli ambassador from his city limits, landed at Ben-Gurion Airport and arrived at a conference in Ramallah as a guest of the Palestinian Authority despite an injunction banning his entry issued at the request of Interior Minister Aryeh Deri. He was admitted, an investigation revealed, due to an error in the spelling of his name.