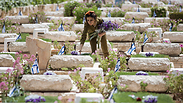 Military cemetery
Photo: EPA
Israel counts 23,645 fallen personnel, terror victims since 1860
As Israel prepares for its national memorial day for the fallen security personal and victims of enemy attacks since Zionism's founding, stats reveal 12 civilians killed this year in enemy attacks, number of total bereaved parents in Israel today stands at 4,849.
After Israel united to remember the murder of six million Jews on Holocaust Memorial day, the country is now preparing to mark Memorial Day for the thousands of IDF soldiers and security personnel who have fallen in the line of duty, along with victims of deadly terror attacks since the founding of Zionism.

Since last Memorial Day, 71 names of security personnel have been added to the list.Thirty IDF veterans disabled in attacks and who died as a result of their condition have also been added to the death toll.

In total, the number of Israel's fallen in the line of duty since 1860 stands at 23,645.

According to the latest figures, published by the Family and Commemoration Division at the Ministry of Defense, there are 8,929 bereaved parents currently living in Israel, 4,849 IDF and security personnel widows and thousands more children who have lost a parent in the course of operations and wars or during terror attacks.

The National Insurance Institute of Israel (NI) said on Friday morning that civilians murdered in enemy activity since Israel declared its independence in 1948 stands today at 3,134.

The number includes 122 foreign citizens, who were murdered in terror attacks in Israel and 100 Israelis who were killed abroad.

Last year, since Independence Day, 12 civilians have been killed. The last person killed was Adiel Kolman, a 32-year-old Israeli who was stabbed in Jerusalem's Old City multiple times on March 18 in a terror attack and who later succumbed to his wounds.

Enemy terror attacks have left 3,175 orphans in their wake, among them 114 who lost both parents, 822 widows and widowers and 926 bereaved parents.

In 2017, the NI handed out a total of half a billion shekels to thousands of people wounded in enemy attacks and to bereaved families.

The NI, in cooperation with Israeli youth movements, are preparing an educational project to encourage youths to visit cemeteries across Israel during Memorial Day, plant flags and light memorial candles on the graves of fallen soldiers.

The memorial website set up as part of the project tells the story of the lives of 4,146 victims killed in enemy attacks since 1860, the first days of Zionism, until the present day.

Visitors of the website can also light a virtual memorial candle and dedicate a message of respect to those killed and share it on social media.

Memorial Day ceremonies will begin next Tuesday from 8pm, when a siren will be sounded throughout Israel as the country observes a one-minute silence.

On Wednesday at 11am, a state memorial ceremony will take place at Mount Herzl Cemetery for fallen IDF soldiers and security personnel. The ceremony will be attended by President Reuven Rivlin and Prime Minister Benjamin Netanyahu, along with Knesset Speaker Yuli Edelstein, Supreme Court Chief Justice Esther Hayut, IDF Chief of Staff Gadi Eisenkot and Police Commissioner Roni Alsheikh.