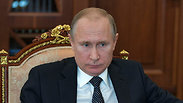 Russian President Putin
Photo: AP
Russia calls for UN meeting on Syria, mulls supplies of S-300 systems
Russian President Putin says strike on Syria launched by the US, Britain and France is 'destructive influence on the entire system of international relations,' adding it makes humanitarian catastrophe worse and causes pain for civilians.
Russia on Saturday called for an emergency meeting of the United Nations Security Council as Moscow said it would consider supplying S-300 missile systems to Syria following a US-led strike. The meeting will be held at 11am (3pm GMT) on Saturday.
"Russia convenes an emergency meeting of the UN Security Council to discuss aggressive actions of the US and its allies," President Vladimir Putin said in a statement published on the Kremlin website.
"The current escalation of the situation around Syria has a devastating impact on the whole system of international relations," he added.
US, British and French forces pounded Syria with more than 100 missiles early on Saturday in response to a poison gas attack that killed dozens of people last week, in the biggest intervention by Western powers against Syrian President Bashar Assad.
Putin said the US actions in Syria made the humanitarian catastrophe worse and caused pain for civilians.
"Russia in the most serious way condemns the attack on Syria where Russian military servicemen help the legitimate government to fight terrorism," Putin said.
He reaffirmed Russia's view that a purported chemical attack in the Syrian town of Douma that prompted the strike was a fake. Putin added that Russian military experts who inspected Douma found no trace of the attack.
He criticized the US and its allies for launching the strike without waiting for inspectors from the international chemical weapons watchdog to visit the area.
A team of inspectors from the Organization for the Prohibition of Chemical Weapons (OPCW) arrived in Syria on Thursday and Friday and are expected to start their investigation into the alleged Douma attack on Saturday.
The OPCW did not immediately respond to a request for comment on whether the work would go ahead.
Footage from scene of alleged chemical weapons attack in Douma (צילום: רויטרס)
Russia, which intervened in the war in 2015 to back Assad, has denied there was a chemical attack and has accused Western nations of staging the Douma incident to stoke anti-Russian hysteria.
Moscow may consider supplying S-300 surface to-air missile systems to Syria and "other countries," Colonel-General Sergei Rudskoi told a televised briefing on Saturday.
Russia had "refused" supplying those missiles to Syria a few years ago, he added, "taking into account the pressing request of some of our Western partners."
Following the US-led strikes, however, "we consider it possible to return to examination of this issue not only in regard to Syria but to other countries as well," Rudskoi said.
Russia's military said 71 out of 103 cruise missiles launched by the US and its allies were intercepted by Syrian government air defense systems using Soviet-made air defense missile systems with high efficiency, shooting down all of the missiles aimed at four key Syrian air bases.
Rudskoi said the strike hasn't caused any casualties and Syrian military facilities targeted have suffered only minor damage.
He said the Russian air defense assets in Syria monitored the strike but didn't engage any of the missiles.
The Russian Ministry of Defense said none of the air strikes hit zones where Russian air defense systems protect the Russian bases of Tartus and Hmeimim.
The Russian ambassador to the US, Anatoly Antonov, condemned the airstrikes and warned that "such actions will not be left without consequences." He said that "all responsibility" rests with Washington, London and Paris.
A spokeswoman for Russia's foreign ministry said the US-led attack will negatively impact peace negotiations. "This action gives a strong signal to extremists and militants that they are doing right things," the state-run RIA news agency quoted Maria Zakharova as saying.