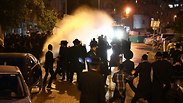 Haredi riot in Jerusalem
Photo: TPS
4 policemen wounded in clashes with Haredi rioters
Hundreds of Jerusalem Faction rioters throw objects at cars, policemen in Jerusalem in protest against enlistment; 4 policemen lightly hurt in clashes with demonstrators; riot control measures, including stun grenades, used to disperse violent protesters.
Israeli police on Sunday dispersed using riot control measures hundreds of ultra-Orthodox Jews who protested against conscription near the IDF recruitment office in Jerusalem, throwing blunt objects at officers and cars passing by.

The riot was sparked due to the intention of the military police to arrest a woman, who at the time was at the IDF recruitment office, for refusing to enlist.

According to a police statement, "Hundreds of ultra-Orthodox Jewish extremists" gathered in front of the conscript office, where four police officers were lightly wounded in clashes.

"The police used stun grenades and water cannons against rioters," police spokesman Micky Rosenfeld told AFP.

Haredim riot in Jerusalem over planned arrest of woman reluctant to enlist (צילום: מחאות החרדים הקיצונים)

Belonging to a radical fringe of the religious population, the Jerusalem Faction, these protesters have been mobilizing for months against compulsory military service in Israel.

The issue of the ultra-Orthodox exemption from military service was at the center in March of a political crisis that nearly brought down the right-wing government of Benjamin Netanyahu.

A compromise was reached within the coalition on controversial legislation that aims to maintain the military service exemption of ultra-Orthodox Jewish students.

The ultra-Orthodox strictly observe the rules of Judaism in all aspects of daily and spiritual life. They see conscription as a source of temptation for young people, out of the closed world of prayer and religious study to which, for the most part, they devote themselves exclusively.