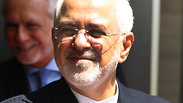 Iranian Foreign Minister Zarif
Photo: EPA
Zarif: Iran to resume nuclear activity 'at much greater speed' if US nixes deal
Iranian foreign minister tells reporters Washington's efforts to try to change the nuclear deal signed with Tehran sends a 'very dangerous message' that 'you should never come to an agreement with the US'; accuses US of 'exercising disrespect' for Iran.
Iran is ready to resume its nuclear activities "at a much greater speed" if the US tries to change or backs out of the nuclear deal, its foreign minister warned in an interview with CBS' Face the Nation, set to air on Sunday.

"We have put a number of options for ourselves, and those options are ready, including options that would involve resuming at a much greater speed our nuclear activities," Mohammad Javad Zarif said in excerpts of the interview released ahead of the broadcast.

He also argued that even if the other parties to the deal—the United Kingdom, Russia, France, China, Germany and the European Union—remain in the deal, Iran cannot stay bound to the agreement if the US withdraws from it.

Zarif speaking to Face the Nation

"The rest of the world cannot ask us to unilaterally and one-sidedly implement a deal that has already been broken," he said.

In other interviews he gave on Saturday, Zarif said that for French President Emmanuel Macron and German Chancellor Angela Merkel "to try to appease the president (Donald Trump) would be an exercise in futility."

Trump will decide by May 12 whether to restore US economic sanctions on Tehran, which would be a severe blow to the 2015 pact between Iran and six major powers. He has pressured European allies to work with Washington to fix the deal.

Macron and Merkel are both due to meet with Trump in Washington this week.

"The United States has not only failed to implement its side (of the deal), but is even asking for more," said Zarif, who is in New York to attend a UN General Assembly meeting.

"That's a very dangerous message to send to people of Iran but also to the people of the world—that you should never come to an agreement with the United States because at the end of the day the operating principle of the United States is 'what's mine is mine, what's yours is negotiable,'" he said.

US Ambassador to the United Nations Nikki Haley said earlier this month that North Korean leader Kim Jong Un has "looked at the Iran deal, he's seen what he can get and he's seen how he can push through loopholes and we're not going to let that happen again."

Under the Iran nuclear deal, Tehran agreed to curb its nuclear program in return for relief from economic sanctions. Trump's predecessor, Barack Obama, struck the pact to try to keep Iran from building a nuclear weapon but Trump believes it has "disastrous flaws."

Zarif said if Washington leaves the deal, there were many options being considered by Tehran, including complaining through a dispute mechanism set up by the agreement or simply leaving the deal by restarting its nuclear activities.

"We will make a decision based on our national security interests when the times comes. But whatever that decision will be, it won't be very pleasant to the United States," he said.

When asked if Iran could stay in the deal with the remaining parties, Zarif said: "I believe that's highly unlikely because it is important for Iran to received the benefits of the agreement and there was no way Iran would do a one-sided implementation of the agreement."

Iran has always said its nuclear program was only for peaceful purposes and Zarif said if Tehran resumed its nuclear activities it would not be intended "to get a bomb."

"America never should have feared Iran producing a nuclear bomb, but we will pursue vigorously our nuclear enrichment. If they want to fear anything its up to them," Zarif said.
'US needs a change in attitude'
In his interview with Face the Nation, the Iranian foreign minister also accused the US government of arrogance and belligerence, saying that Washington needed "a change in attitude" before any meaningful negotiations can begin over several US citizens being held prisoner in Iran.
"It is important... for the (Trump) administration to show the ability to engage in a respectful dialogue," Zarif said. "The United States needs to learn how to treat other sovereign nations, particularly sovereign nations who do not depend on the United States for continued existence."
Zarif spoke to Face the Nation on Friday; the full interview will be broadcast Sunday and portions of the transcript were made available to The Associated Press.
At least five Iranians, all dual-American citizens or green-card holders, have been sentenced to prison in Iran on espionage-related charges, as has Chinese-American Princeton graduate student Xiyue Wang.
Zarif said his government is open to talks on a prisoner release—particularly on health or humanitarian grounds; one of the prisoners, Baquer Namazi, is 81 and in poor health. But he said the current American attitude makes such negotiations impossible.
"You do not engage in negotiations by exercising disrespect for a country, for its people, for its government," he said. "Then you do not leave much room for a genuine dialogue."
The Associated Press contributed to this report.