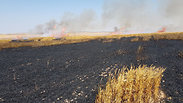 Kite terrorism in Sha'ar HaNegev
Continuing kite threat puts Israeli farmers on edge
As another incendiary kite sets fire to 100 dunam wheat field in Sha'ar HaNegev, farmers residing in Israeli communities on the Gaza perimeter fear 'gimmick that has become a genuine threat'; meanwhile, as March of Return protests seem to be dying down, IDF fears desperation move by Hamas to reinvigorate them.
Four kites affixed with burning objects were flown from Gaza at a wheat field in the Sha'ar HaNegev Regional Council Monday. While there were no casualties, the consequent fire caused immense damage, torching an estimated 100 dunam (equal to 1,000 square meters) of wheat.

Farmers in the region who noticed the kites quickly reached the wheat field and put out the fire using tractors and water hoses, while fire teams were called to the scene to assist in taming the flames.

An incendiary kite torched a Sha'ar HaNegev wheat field (Hebrew)

On the backdrop of the weekly Friday "March of Return" protests near the Gaza border, dozens of burning kites were flown into Israel from the strip recently. In a previous incident, one such kite set fire to 200 dunam of natural wood in Be'eri Forest.




A farmer residing in one of the Israeli communities surrounding Gaza told Ynet, "We're dealing with a new phenomenon, one which is destructive, dangerous and quickly gaining momentum."

"We see kites flying towards us on a nearly daily basis. We monitor them to see that they don't land in fields just now—during the harvest—when everything's dry and highly combustible. It may seem like a gimmick to a lot of people, but for us it's a serious threat," he stated.

Other Gaza perimeter farmers echoed his opinion, estimating the damage caused by the incendiary kites to reach the thousands of shekels, with torched chickpea and wheat fields in their wake.

"At first we really did think it was a gimmick, some kind of joke—an incendiary kite—but it turns out we were wrong in a big way. This antiquated weapon is giving us serious trouble and causing heavy damages," a longstanding farmer said.

Preparations are now underway throughout the region's Israeli communities. "When you see a burning kite flying through the air, everyone is immediately on edge and stops working. Everyone tracks it to make sure it lands in an open field and not on our crops. It's absurd," another farmer lamented.

"Sometimes you see several kites coming in quick succession," he added, noting his own wheat field was burned last week.

In their conversations with army chiefs, heads of Gaza perimeter local authorities raised their concerns at the growing danger. The IDF, for its part, cautioned that the kites' success incentivized Palestinians to continue using them.

Incendiary kites aside, the Palestinian protests near the fence over the past month are a relatively minor occurrence, despite the participation of thousands. After more than four weeks of said protests, it seems the wind has somewhat left their sails.

Israeli officials, however, voiced concern that Hamas may interpret the protest wave dying down as a resounding failure, a sentiment that may engender frustration. The terror group's Gaza leadership, headed by Yahya Sinwar, is disappointed with Gazans' disinclination to break through the fences.

The IDF and defense establishment thus fear frustration will push the group to a move that may cause a massive conflagration—carry out a terror attack in order to harm Israel on the one hand and reinvigorate the lagging protest on the other.

Readiness within the army remains high, and soldiers are briefed accordingly. "Don't let the weakening protest deceive you," soldiers were told. "It can come at a moment's notice."