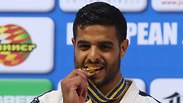 Sagi Muki
Photo: Oren Aharoni
Israeli judoka Sagi Muki won first place in the European Senior Judo Championships 2018 in Tel Aviv on Friday, defeating Sami Chouchi from Belgium.

Muki, who competes in the half-middleweight division (73 - 81 kg), advanced to the finals after defeating Russian judoka Aslan Lappinagov.

This time, the Israeli anthem "Hatikvah" was played as Muki was awarded the medal.

The match between Muki and Chouchi was intensly close, as even after four minutes of battle, none could not get on the board. Each of them already had two penalties and after more than six minutes of struggle, seconds before sudden-death, the Israeli performed a counter, scored and ran to celebrate with the huge crowd.

Sagi Muki celebrates win (צילום: איגוד הג'ודו)

Muki made a name for himself after snagging first place in August of last year at the at the Tashkent Judo Grand Prix 2017.

For his victory, Muki will receive a special grant of NIS 40,000 from the joint fund of the Israel Olympic Committee, the Ministry of Culture and Sport and the Sports Betting Board. His coach, renowned judoka Oren Smadja, will receive half the amount.

In addition to Muki's gold, two other Israelis snatched medals in the first day of the competition. Tal Flicker won the bronze in the under 66 kg weight category after defeating Marko Gusic of Montenegro. In a match Saturday, a fourth medal was added when judoka Peter Paltchik won a bronze medal after beating a Russian opponent.

In the women's under-52kg weight-class, Gefen Primo also finished in third place, taking home the bronze medal after defeating the Turkish judoka Irem Korkmaz.

The event began Friday with a minute of silence in memory of the ten Israeli teenagers killed in flash flood in southern Israel the previous day.

"We bow our heads and share in the pain of the difficult loss of the boys and girls - the best of our children - who were killed in the horrible disaster," said Culture and Sports Minister Miri Regev.