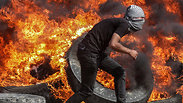 Clashes on the Gaza border
Photo: EPA
The increasingly violent rioting of Palestinians on the Gaza border led the IDF to adopt a new policy of attacking Hamas targets in response, military officials said Saturday.

Some 1,000 Palestinians took part in the rioting at the Karni crossings on Friday, during which hundreds of them tried to sabotage the border fence by hurling explosives and hand grenades at it.

The IDF therefore decided to answer violence on the border with military operations deep inside the Gaza Strip, targeting the Hamas terror organization. Late Friday night, the Israel Air Force attacked six Hamas naval targets.

According to the Palestinians, IAF aircraft launched missiles at two boats at the Gaza port, as well as a Hamas post in Deir al-Balah, south of the port. No injuries were reported in the strikes, but the boats were damaged.

The main reason for the escalation in the response is the fact Nakba Day, which the Palestinians mark on May 15, draws near.

Palestinians commemorate what they call the "Nakba" or "Catastrophe" when hundreds of thousands fled or were driven out of their homes in 1948, when the state of Israel was created.

The new US Embassy in Jerusalem is also due to open on May 15, adding to the mounting tensions. The first Friday of the holy month of Ramadan will also take place on the same week.

Ahead of that week, Hamas is trying to inflame tensions on the ground, with Hamas leader Ismail Haniyeh saying terrorists will be crossing the fence to carry out attacks. The IDF has intelligence to back up that claim, making it a concrete threat.

The IDF is therefore trying to demonstrate to Hamas the price of such violence by escalating its response.

"We have all of the tools at our disposal, and we are attacking deep (inside the strip). We have no intention of continuing this game," an IDF official said Saturday.

A 15-year-old Palestinian teenager hurt in the violent clashes on the border succumbed to his early Saturday, bringing the number of dead in clashes this Friday to four.