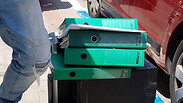 Some of the documents seized
Police raid pre-military academy in wake of flash flood disaster
Investigators confiscate computers and documents from the Bnei Zion pre-military academy, where the ten teenagers who were killed during an orientation trip were due to start studying in the fall; Minister Erdan explains decision to arrest school's principal: 'There was concern of obstruction.'
Police investigators raided the Bnei Zion pre-military academy on Sunday in the wake of the flash flood disaster, which claimed the lives of ten teens due to start studying there in the fall who were on an orientation trip.

The investigators from the Tel Aviv District Police's anti-fraud unit confiscated computers and documents as part of their investigation into the deaths at the Zafit Stream Thursday.




The academy's principal Yuval Kahan, who is suspected of negligent homicide, was arrested on Friday. The arrest was criticized by many, who wondered if it was necessary.

"This question also bothered me, and I turned to the police and asked them," Public Security Minister Gilad Erdan told Ynet on Sunday. "It was explained to me that there is a prosecutor who accompanies the investigation, and that there were apparently contradictions in the different versions and concern of obstruction of the investigation, which created the need for the arrest."

He stressed that the decision to extend the remand of suspects and leave them in police custody is done by a judge, not the police.

An instructor at the school who was also arrested in the wake of the disaster was put on house arrest on Saturday night. The instructor, 25, herself a former student of the school, claimed during questioning that she warned authorities and asked for the trip to be canceled due to possible floods.

She added she shared her concern with her father, deputy commander of the search and rescue unit that was rushed to scene after the disaster, and that he had also attempted to get the trip canceled—but his warnings went unheeded as well.

The instructor was released to house arrest when investigators were satisfied her culpability for the scandal was lesser than those of another instructor, Aviv Bardichev, 27, and the school's principal Kahan.

The nine girls and one boy killed in the disaster were identified as Ela Or from Ma'ale Adumim, Romi Cohen from Moshav Maor, Yael Sadan from Jerusalem, Maayan Barhum from Jerusalem, Agam Levy from Moshav Herut, Gali Balelli from Givatayim, Shani Shamir from Shoham, Adi Ra'anan from Moshav Mikhmoret, Tzur Alfi from Mazkeret Batya, also in central Israel, and Ilan Bar Shalom from Rishon LeZion.

Thousands accompanied Ela Or, Maayan Barhum, Agam Levy, Shani Shamir, Illan Bar Shalom, Tzur Alfi and Yael Sadan to their final resting places Friday. Romi Cohen, Adi Ra'anan and Gali Balelli will be interred Sunday.

Ilana Curiel, Alexandra Lukash and Nir Cohen contributed to this story.