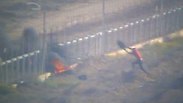 Attempt to cross border
Photo: IDF Spokesperson's Unit
3 Gazans shot dead, 3 arrested, in flurry of border breaches
One shot dead, one arrested while attempting to cross into Israel from Gaza, while two shot dead in separate incident after terrorists manage to breach border while throwing explosives at IDF soldiers; 2 more nabbed after crossing into south Israel armed with knives and wire cutters.
IDF soldiers shot to death two Palestinian terrorists on Sunday evening who infiltrated into Israeli territory from the central Gaza Strip, while a third was shot dead in an earlier incident while attempting to breach the southern end of border with another Palestinian, who was taken in for questioning.
Approximately forty minutes later at around 10:40pm, two Palestinians armed with knives and wire cutters were arrested and taken in for questioning after they managed to cross the border from central Gaza into Israel.
In the second incident involving the death of two Palestinians at the same time, the pair reportedly and threw explosive devices at an IDF force.
"Two terrorists who infiltrated into Israel hurled explosive devices" at soldiers Sunday night, an IDF statement said.
At the end of last month, an IDF force arrested three Palestinians armed with knives and grenades after they had infiltrated Israel from the Gaza Strip. The terrorists were caught in the Tze'elim area, about 20 kilometers from the Gaza border near Tze'elim kibbutz.
A police sapper was dispatched to the area to neutralize the grenades with the help of a police robot.
CCTV footage showed the three terrorists wandering around undisturbed for several minute while the gate to the kibbutz was left wide open.
A few days earlier, four Palestinians entered Israel from the Gaza Strip near Kibbutz Kissufim and attempted to torch heavy engineering equipment used for the construction of the underground anti-tunnel barrier. An IDF force approached them and the four fled back to the Gaza Strip.