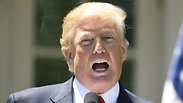 President Trump
Photo: AFP
Trump: Israel 'proven right' after Netanyahu's exposure of Iran's nuclear weapons archive
Speaking in a press conference at the White House after Netanyahu presents giant trove of 'conclusive proof' that Iran is developing nuclear weapons, Trump also says recent events have 'really shown that I have been 100% right.'
US President Donald Trump said on Monday that Israel has "been proven right" after Prime Minister Benjamin Netanyahu's presentation of what he said was "conclusive proof" of a secret nuclear weapons project underway underway in Iran—evidence that the prime minister said proved that Tehran had lied "big time" to the international community.

"You know in seven years that deal will have expired and Iran is free to go ahead and create nuclear weapons. That's not acceptable. Seven years is tomorrow. That's not acceptable," Trump said during a press conference at the White House.

Trump responds to Netanyahu's Iran presentation (צילום: רויטרס)

"So no, if anything it's proven right what Israel has done today with the news conference and Prime Minister Netanyahu just gave a … very, I don't know if everybody's seen it but I got to see a little bit of it, and that is just not an acceptable situation and I've been saying it's happening," Trump said when asked about Netanyahu's presentation.

"They're not sitting back idly. They're setting off missiles, which they say are for television purposes. I don't think so. So we'll see what happens, I'm not telling you what I'm doing but a lot of people think they know and before the 12th we'll make a decision," he added.

Trump has threatened to withdraw from the 2015 agreement reached between Iran and global powers, which granted Tehran relief from economic sanctions in return for curbs to its nuclear program.

Despite his opposition to the deal, Trump indicated that a final decision has yet to be taken and that the US would be willing to negotiate a "real agreement" whatever its decision.

"That doesn't mean we won't negotiate a real agreement. This is an agreement that wasn't approved by too many people and it's a horrible agreement for the United States, including the fact that we gave Iran $150 billion, and $1.8 billion in cash," Trump said, before telling reporters: "You know what we got? We got nothing. We got nothing.

"So that doesn't mean I wouldn't negotiate a new agreement. We'll see what happens but I think if anything what's happening today and what's happened over the last little while and what we've learned, has really shown that I have been 100% right," the president said.

However, Iran's foreign minister Mohammad Javad Zarif said Israel's accusations on Tehran's nuclear program were "old allegations" that had been dealt by the United Nations nuclear watchdog in the past.

"President Trump is jumping on a rehash of old allegations already dealt with by the IAEA to "nix" the deal. How convenient. Coordinated timing of alleged intelligence revelations by the boy who cries wolf just days before May 12. But Trump's impetuousness to celebrate blew the cover," Mohammad Javad Zarif tweeted.

Netanyahu said on Monday he had spoken with the leaders of France and Germany, and that Israel would be sending experts to share its intelligence on alleged Iranian nuclear efforts.

Netanyahu's office said on Twitter that Israel "will send in the coming days professional teams that will share with Germany and France the detailed material Israel obtained on Iran's efforts to obtain a nuclear weapon."

The prime minister also spoke with Russian President Vladimir Putin about Israel's intelligence documents, it said, and the two agreed to meet at a later date.