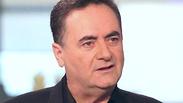 Minister Yisrael Katz at the Ynet studio
Photo: Avi Moalem
Minister Katz lauds 'one of greatest intelligence operations in Israel's history'
Intelligence minister says Iranians were likely aware of the fact that Israel got its hands on documents proving Tehran had a secret nuclear weapons program. 'When the idea was first presented, I didn't think it was feasible,' he tells Ynet. 'What they did here is unprecedented.'
A day after Prime Minister Benjamin Netanyahu released information collected by the Mossad on Iran's nuclear weapons program, Intelligence Minister Yisrael Katz says he assumes the Iranians knew Israel got its hand on the files that same night.

"When the idea of the operation was first presented, I didn't think it was feasible," Katz said in an interview at the Ynet Studio on Monday. "What they did here is unprecedented. They took tons of authentic documents and brought them here."

According to Katz, the information provides Israel with an advantage in the international arena against Iran.

"From an operational aspect, this is amazing, and all credit goes to the Mossad people. This is one of the greatest intelligence operations in the State of Israel's history.

"This information significantly embarrasses Iran and presents it as a liar," the minister added. "What happened yesterday arrived at a two-month delay. The Iranian leadership was aware of the fact that Israel got its hands on its most classified documents. The instruction to hide them was issued after the agreement was signed in 2015 and they wanted to hide the deception so that they would be able to use it in the future."
Former Mossad deputy chief questions PM's motives
Former Deputy Mossad Director Ram Ben-Barak questioned the motives behind Netanyahu's decision to expose the sensitive information on the Mossad's complicated operation.

"I see no good reason for it," he said. "It's very likely that many people objected to the publication of this information, because it's harmful. The Iranians are probably racking their brains now, trying to figure out how it happened. They will investigate and eventually find out all kinds of things. I think it was unnecessary. We could have reached the same result without that press conference.

"I've been feeling very distressed since yesterday," he added. "I'm concerned that we are going to places we haven't been in. Covert activities have to remain covert. This use of information is alarming and I fail to understand it."

As for the nuclear agreement, the former deputy Mossad chief said: "The Iranians don't want to violate the agreement because they want it to expire in eight years, and then they'll develop the nuclear program. In the meantime, they are building military activities to threaten the State of Israel which has to deal with them.

"The right thing to do, therefore, is to say to the world powers, including Russia: Either supervise Iran to make sure that it's upholding the agreement, or impose sanctions. Unfortunately, we are choosing a policy of bombastic statements that are heating up the entire region, and that's a shame."

Minister Katz responded, "By releasing the documents we are pushing Iran into a corner, and that benefits us, especially in light of the conflict in the north." The prime minister's considerations were appropriate, he said. "He decided to expose the material and he did it in a good way."

Justice Minister Ayelet Shaked said earlier that Netanyahu's public move was "a wake-up call for Europe, which is burying its head in the sand" in regards to the Islamic Republic's nuclear program.

"There are two main things we can learn from what we saw yesterday. One of them is that the Iranians have nuclear weapon systems. Second, we learn that the entire nuclear agreement was based on a lie. Why? Because the International Atomic Energy Agency (IAEA) presented questions to Iran on its weapon systems and on this project, and Iran denied everything. The nuclear agreement was based on this questionnaire. Since we know today that their answers were false, the nuclear agreement is based on a lie and there is a serious problem here."

Addressing the claim that there was nothing new in the information presented, Shaked said: "This is unequivocal proof that the Iranians were in advanced stages of developing a nuclear weapon. We should know that the fact that they stored these materials indicates that they planned to save them for later. Now, Iran knows it is exposed and knows Israel can reach any place in the Islamic Republic."
'Agreement must be reinforced'
Emily Landau, a senior research fellow at the Institute for National Security Studies, told Ynet: "Everyone hoped Netanyahu would present an intelligence picture on a certain Iranian violation since the nuclear agreement was signed, but that didn't happen. It's significant, because if everything had been clear during the negotiations with Iran, we might have reached a different result."
So where do we go from here?
"I believe that Netanyahu's goal is to convince or reinforce Trump's decision to walk away from the agreement, which may have already been made. Personally, following these revelations, I would like to see more awareness of the fact that Iran lied to the international community for years. It should be addressed with more suspicion, which is why there is a need to reinforce the nuclear agreement without renegotiating it, which is something the Iranians are not interested in.
"I don't think Trump should withdraw from the agreement," Landau added, "because it's a fait accompli. It's a bad agreement with many flaws, but it exists. Withdrawing from means we would be left without the minor limitations. We have to work to reinforce it."