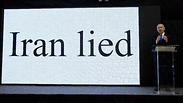 Netanyahu's presentation, Monday
Photo: AP
France: Israeli info on Iran could underscore need for long-term assurances
French foreign ministry says intelligence information presented Monday in part confirms non-civilian nature of program revealed by European powers in 2002, but merely proves need to ensure nuclear deal and UN inspections remain; meanwhile, Iran calls Netanyahu 'infamous liar' over nuclear allegations.
France's foreign ministry said on Tuesday that information provided by Israel of Iran's past nuclear weapons program could be a basis for long-term monitoring of Tehran's nuclear activities.

The ministry said Israeli intelligence information presented on Monday in part confirmed the non-civilian nature of the program revealed by European powers in 2002, but that it merely proved the need to ensure the nuclear deal and UN inspections remained.

Meanwhile, Iran branded Prime Minister Benjamin Netanyahu an "infamous liar" over his allegations of a secret Iranian nuclear weapons program.

Foreign ministry spokesman Bahram Ghasemi called the accusations that Tehran lied about its nuclear ambitions "worn-out, useless and shameful."

Netanyahu's comments came from a "broke and infamous liar who has had nothing to offer except lies and deceits," Ghasemi said in a statement.

"Netanyahu and the notorious, child-killing Zionist regime must have reached the basic understanding that the people of the world have enough awareness and cognizance," he added.

Netanyahu presents information on Iran's nuclear program (Video: Roee Idan) (צילום: רועי עידן)

Netanyahu said in an elaborate televised presentation on Monday that he had new "proof" of an Iranian nuclear weapons plan that could be activated at any time.

But he did not provide evidence that Israel's main enemy had actively worked to obtain an atomic weapon since the 2015 agreement between Tehran and six world powers.

His accusations came as the United States considers whether to pull out of the atomic accord with Tehran.

Iran has always denied it sought a nuclear weapon, insisting its atomic program was for civilian purposes.

Reuters and AFP contributed to this report.