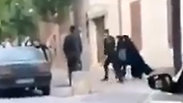 Only two weeks after the release of a viral video showing Iran's modesty squads attacking an insufficiently clad woman, a new video documenting the brutal reality of the 'morality police' is circulating on the internet.

In the video, a woman can be seen being tackled and dragged by the morality police into an unmarked squad car in an area of Tehran known for its entertainment venues for students.

Iran modesty squad

The woman can be seen struggling with the police and shouting for help as they shove her into the vehicle. A man, possibly her partner, is also seen in the video; apparently he was arrested.

The video was filmed by a student at Amirkabir University of Technology, who told the Daily Mail, "Students like to hang out and smoke here. On my way back from the university, I noticed the modesty police using excessive force against people. When passersby approached their vehicle, they were warned that they would be arrested and to mind their own business."

In April, a video portraying a female modesty police officer hitting a young woman whose headscarf was apparently insufficient went viral on the internet. It was filmed in a public park, probably secretly. The young woman, wearing a red scarf, can be seen arguing with a man and a woman.

April incident modesty police

Moments later, two women clad in black approach the girl, shout at her and shove her to the ground. Other women, not from the modesty police, assisted the attackers. The victim can be heard screaming and crying on the ground.

In response to the widespread publication of the video, Iranian President Hassan Rouhani criticized the violence used against women not dressed modest enough. Iranian television reported that Rouhani condemned the scene in the video.

"Grabbing the collar of people in order to advance morality will not work," said Rouhani, a reformer who was elected with the promise of expanding personal freedoms in Iran; he has had very limited success on that front.

Last December, the Tehran police announced that women would no longer be arrested for disobeying the Islamic dress code enforced since the 1979 revolution. They said then that they would suffice by sending women who violate the dress code to special classes given by the police.

In Tehran alone, there are more than 100 study centers where citizens undergo morality and modesty training. It was also reported at the time that legal proceedings may still be held against women who are repeatedly caught violating the law.