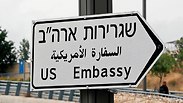 Signs installed pointing to new US embassy
Photo: AFP
Trump will not come to Israel to open US embassy in Jerusalem
President Trump will be represented by daughter Ivanka and her husband Jared Kushner; delegation of US administration officials led by Secretary of the Treasury Steven Mnuchin will also attend, as well as American Jewish and Christian leaders, past US ambassadors and others.
US President Donald Trump will not arrive in Israel for the opening of the American embassy in Jerusalem on May 14, according to a list released by the White House on Monday.

President Trump will be represented by his daughter Ivanka and her husband Jared Kusher.

The embassy opening ceremony will be attended by an American delegation led by Secretary of the Treasury Steven Mnuchin. It will also include Deputy Secretary of State John Sullivan, Trump's envoy to the Middle East Jason Greenblatt, American Ambassador David Friedman, Florida Governor Rick Scott, and Senator Lindsey Graham.

They will be joined by a delegation of eight Congressmen, headed by Rep. Joe Wilson, and a large delegation of American Jewish community leaders, Christian community leaders, former US ambassadors to Israel, and others.

Some 1,000 people are expected to attend the embassy inauguration ceremony, with the American delegation alone being 300 people.

Among the Israeli officials in attendance will be Prime Minister Benjamin Netanyahu, government ministers, Supreme Court Chief Justice Esther Hayut, Knesset Speaker Yuli Edelstein, State Comptroller Yosef Shapira, Israel's Chief Rabbis David Lau and Yitzhak Yosef, the heads of the Knesset's committees and the chairman of the Opposition, Isaac Herzog. Members of Knesset were not invited to attend.

The Israel Police is preparing for a series of potentially explosive events set to take place next week: Jerusalem Day will be celebrated on Sunday, the US Embassy opening is scheduled for Monday, while Nakba Day will be commemorated on Tuesday.

Hundreds of police officers will be deploy across the capital, particularly in the Arnona neighborhood where the embassy is located. In addition to police presence, the American delegation will arrive in Israel with its own security.

Ahead of the opening ceremony next week, US Embassy road signs went up in Jerusalem on Monday.

Installing signs pointing to the new US embassy (רויטרס)

Workmen installed the black-and-white signs, in English, Hebrew and Arabic, along roads leading to a US consulate building in south Jerusalem that will be remodeled as the embassy when it is formally relocated from Tel Aviv on May 14.

"This is not a dream. It is reality. I am proud and moved to have hung this morning the first new signs that were prepared for the US Embassy," Jerusalem Mayor Nir Barkat wrote on Twitter.

At the consulate site, mechanical diggers cleared scrubland as workers posted embassy signs along city roads and hung US, Israeli and Jerusalem flags from street lights.

As part of preparations for the embassy opening, a new escape route was paved from the building, while a new fence was erected on top of the existing wall to increase security.

Initially, only two rooms—offices for the ambassador and his secretary—have been added to the consulate building in Jerusalem ahead of its conversion to an embassy. By the end of the year, a new structure will be built inside the complex to house personnel moving from the Tel Aviv building.

There are also plans for a new embassy to be built at a later stage, though it is still unknown when that would be and where.

Peace Now plan to protest outside the ceremony. The NGO will launch a public campaign against the move next week with the slogan "Not like this, not now"—asserting moving the embassy at this time would hurt the peace process and undermine Israel's security.

The Palestinians called on world nations and international organizations to boycott the embassy opening ceremony.

"This (embassy) move is not only illegal but will also thwart the achievement of a just and lasting peace between two sovereign and democratic states on the 1967 borders, Israel and Palestine living side by side in peace and security," Palestinian negotiator Saeb Erekat said in a statement.

The Trump administration has left the diplomatic door open to a negotiated settlement between Israel and the Palestinians on defining Jerusalem's borders.

"By recognizing Jerusalem as the capital of Israel and the seat of its government, we're recognizing reality," US Secretary of State Mike Pompeo said during a visit to Israel last week.

"I also stress, as President Trump has said in December, the boundaries of Israeli sovereignty in Jerusalem remain subject to negotiations between the parties, and we remain committed to achieving a lasting and comprehensive peace that offers a brighter future for both Israel and the Palestinians."

On Monday Paraguay said it was planning to move its embassy from Herzliya to Jerusalem on May 21 or 22, with outgoing President Horacio Cartes expected to attend.

In March, Guatemalan President Jimmy Morales said his country would relocate its embassy from Tel Aviv to Jerusalem on May 16, two days after the US move.

Prime Minister Benjamin Netanyahu said in April "at least half a dozen" countries were now "seriously discussing" following the US lead, though he did not identify them.

Reuters contributed to this story.