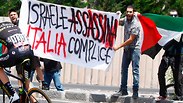 Anti-Israel protesters at Giro d'Italia
Photo: AFP
Palestinians and their supporters protested against the Israeli cycling team at Giro d'Italia in Catania, Sicily on Tuesday, attempting to block the race's route.

The prestigious international race, which held the its first three stages in Israel, returned home to Italy ahead of its fourth stage.

Before the race, the Palestinian protesters stood on the starting line and chanted slogans against Israel.

After the race had begun, the protesters broke out onto the road, trying to block the cyclists, but local police quickly removed them.

"The protests only motivate me more," said Israeli cyclist Guy Niv.



The Boycott, Divestment, Sanctions (BDS) movement and other anti-Israel groups have been waging a campaign against the Israel Cycling Academy in recent months.

They demanded not to allow the Israeli team to complete in Giro d'Italia and protested against it across Europe. They also tried unsuccessfully to prevent the race from coming to Israel.