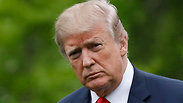 President Trump
Photo: AFP
Europe expects Trump to announce withdrawal from Iran nuclear deal
Ahead of President Trump's expected announcement, Western officials foresee announcement of withdrawal, re-imposition of sanctions; US "let it be known it was over," diplomat says; Iranians bellicose ahead of announcement, saying Trump 'responsible for deal's collapse,' vowing to 'not remain passive' and proclaiming they are 'unafraid of US sanctions or attack.'
US President Donald Trump will announce on Tuesday whether he will pull out of the Iran nuclear deal or stay in and work with European allies who say it has successfully halted Iran's nuclear ambitions, but those same allies were pessimistic as to the chances of the US staying in the deal.

Ahead of his announcement, European officials said they expected President Trump to proclaim he was pulling out of the Iran deal, after they struggled to persuade him that the accord has halted Iran's nuclear ambitions.

One senior European official closely involved in Iran diplomacy said US officials had indicated late on Monday that Trump would withdraw from the deal but it remained unclear on what terms, and whether sanctions would be re-imposed.

Two American officials echoed his assessment, telling CNN Trump is expected to announce he will permit new sanctions on the Islamic republic to be levied—a first step en route to the US's withdrawal from the deal.

If the president does decide to renew sanctions, it will be up to the US's European allies to decide how to act. Similarly, Iran will have to decide whether to continue complying with the deal's conditions or announce its own withdrawal, as it has threatened to do.

In any event, the sanctions will not be imposed immediately but after a period of several months, during which the American administration will publish instructions to companies and banks.

A senior Western diplomat said France, Britain and Germany—which were also party to the agreement—were working on the assumption of a hard US exit after a call last week between US Secretary of State Mike Pompeo and European officials at which he made clear talks on rescuing the deal would not go further.

"He let it be known that it was over," the diplomat said.

European officials understood this to mean that Trump would not renew sanctions waivers, a move which would in effect kill the deal.

Trump planned to discuss his decision in a phone call on Tuesday with French President Emmanuel Macron, a senior White House official said.

Macron's office later said in a statement that the two had indeed spoken, and that they discussed issues related to peace and stability in the Middle East.

The New York Times then reported, citing a person briefed on the conversation, that President Trump told Macron that the United States was going to pull out of the Iran deal—which both the White House and Macron's office denied.

The source added the US was preparing to reinstate all sanctions it had waived as part of the deal and impose additional economic penalties, the Times reported.
Kerry: US withdrawal from deal 'doesn't make sense'
Former US Secretary of State John Kerry and one of the nuclear deal's architects said Tuesday withdrawing from the Iran deal "doesn't make sense."

Kerry, speaking at a gathering on food innovation in Milan, said he challenged anyone to find an agreement tougher than the one in place now, adding Iran could not physically make nuclear weapons right now because it only has the 300 kilograms (661 pounds) of low-enrichment uranium allowed under the agreement.

Trump has consistently threatened to pull out of the 2015 agreement because it does not address Iran's ballistic missile program or its role in wars in Syria and Yemen, and does not permanently prevent Tehran from developing nuclear weapons.

European leaders have warned that a US withdrawal would undo years of work that has kept nuclear weapons out of Iran's hands.
Top Republican: US should 'enforce the hell' out of deal rather than bow out
In Washington, the Republican chairman of the US House of Representatives Foreign Affairs Committee said the United States should continue to fix flaws in accord and "enforce the hell" out of it, but not withdraw.

Speaking hours before Trump was due to announce his decision, Ed Royce said tearing up the deal would not recover cash sent to Iran's government or "galvanize" allies into addressing Iran's dangerous activities.

"I fear a withdrawal would actually set back those efforts," he said in a statement.




A senior British diplomat iterated his country's deep pessimism ahead of Trump's speech.

"Unfortunately we are deeply pessimistic ahead of President Trump's announcement later today. However, we will have to wait and see what exactly President Trump says tonight," the diplomat, who declined to be named, said.

"Our objective will remain to uphold and maintain the JCPOA (the nuclear deal). We will need to wait to understand what the US plan is to deliver on our shared goal of preventing Iran from obtaining a nuclear weapon and addressing their regional behavior," he added.
Iran: Trump responsible for deal's collapse
Iranian officials, meanwhile, have issued combative statements ahead of Trump's announcement. One anonymous official said Iran would not accept any demands on top of those it agreed to in its nuclear deal with world powers.

"The European signatories are trying to persuade Trump to remain in the deal, but they should know that Iran will never accept any demand beyond the deal," the official told Reuters on condition of anonymity because of the sensitivity of the issue.

"Trump should know that he is responsible for all the consequences of the deal's collapse. Iran has always been committed to its international obligations."

Similarly, Iran's speaker of parliament accused the United States Tuesday of breaching its commitment to the nuclear deal. "The Americans did not implement their commitments. It seems you can only speak with the Americans in the language of force, and there is no other solution," Ali Larijani was quoted as saying by the news agency IRNA.

The secretary of Iran's Supreme National Security Council, for his part, said Iran will not be passive if President Trump left the nuclear deal.

"It will not be in the Americans' interests if the JCPOA collapses by their offensive... We will not be passive if the United States starts confrontation with Iran," Ali Shamkhani was quoted as saying by Fars news agency.

Perhaps the most bellicose, however, was the Revolutionary Guard's deputy commander, who said Iran was "not afraid of US sanctions or attack."

"Our enemies—including America, the Zionist regime and the allies in the region—should know that Iran has prepared for the worst scenarios and threats," Hossein Salami was quoted as saying by Fars news agency.

The Associated Press and Reuters contributed to this report.