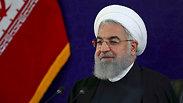 Iranian President Rouhani
Photo: AP
Iranian President Hassan Rouhani said Tuesday he'd send his foreign minister to negotiate with countries remaining in the nuclear deal after Donald Trump's decision to pull America from the deal, warning he otherwise would restart enriching uranium "in the next weeks."
Rouhani's speech, carried live by state television, marked a doubling-down for the cleric who has seen his signature foreign policy achievement threatened by Trump for years.
President Trump's statement on withdrawal from nuclear deal
The Iranian president was furious, accusing Trump of "psychological warfare" and vowing to take the matter up with the agreement's other signatories, including Washington's rivals Moscow and Beijing.
"By exiting the deal, America has officially undermined its commitment to an international treaty," he said.
However, he stressed that the deal could survive without the US. "If at the end of this short period, we've conclude that we are able to achieve our demands in the deal, the deal will survive," Rouhani said.
The Joint Comprehensive Plan of Action (JCPOA) is the full name for the nuclear deal, struck in 2015 between Iran, the five permanent members of the UN Security Council - the United States, Russia, China, Britain and France - and Germany.
Rouhani added that Iran was ready to resume its nuclear activities after consultations with the other world powers which are part of the agreement.
Trump's announcement was hailed by Washington's principal allies in the Middle East, Israel and Saudi Arabia, both sworn foes of Iran.
Under the deal, Iran curbed its nuclear activities in return for the lifting of most sanctions imposed on the country.
Earlier on Tuesday, Rouhani stressed Iran wants to keep "working with the world and constructive engagement with the world." That appeared to be a nod to Europe, which has struck a series of business deals with Iran since the landmark 2015 nuclear deal.

Iran likely hopes the European Union will pass laws to protect European firms from any potential US sanctions.
Trump said he would reimpose economic sanctions on Tehran immediately. His decision puts pressure on his European allies, who are key backers of the deal and reluctant to join the United States in reimposing sanctions on Iran.
Iranian state television did not broadcast Trump's speech live, but carried his remarks in the crawl at the bottom of the screen and later recounted some of them. It said Trump's decision to withdraw was "illegal, illegitimate and undermines international agreements."
Trump complains that the agreement, the signature foreign policy achievement of his predecessor Barack Obama, does not address Iran's ballistic missile program, its nuclear activities beyond 2025 nor its role in conflicts in Yemen and Syria.
He also said the agreement did not prevent Iran from cheating and continuing to pursue nuclear weapons.
Trump said he was willing to negotiate a new deal with Iran, but Tehran already has ruled that out and threatened unspecified retaliation if Washington pulled out.
Trump and the United States also came under fire from Iran's first vice president, Eshaq Jahangiri, a popular reformist politician who has been suggested as a possible presidential contender in Iran's 2021 election.
"Today, the biggest power in the world is yelling that it does not accept it (the deal)," Jahangiri said, according to the semi-official ISNA news agency. "It's up to them what to do with the deal, but (from now on) naive individuals would accept to enter talks with such a country."
"We are ready and have a plan for managing the country under any circumstance," he added.
Jahangiri's comments suggest a coming political turn against any rapprochement with the West if Trump pulls out of the deal, especially as he is a reformist -- a politician who advocates for change to Iran's theocratic government. It also comes as Trump is set to meet with North Korean leader Kim Jong Un later this year, where negotiations will undoubtedly include talks about the Asian country's atomic weapons program.
Trump's decision sets the stage for a resurgence of political infighting within Iran's complex power structure, Iranian officials told Reuters.
Trump's decision to exit the deal could tip the balance of power in favor of hardliners looking to constrain Rouhani's ability to open up to the West.
"They will blame Rouhani ... They will continue their shenanigans at home and abroad. And they will have the US to blame for the failure of the economy," said Abbas Milani, director of the Iranian Studies program at Stanford University.
Khamenei, whose hostility towards Washington is the glue that holds together Iran's faction-ridden leadership, had said that Iran would "shred" the deal if the United States pulled out of it.
Many in Tehran and elsewhere in the country are worried about what Trump's decision could mean for the country.
Already, the Iranian rial is trading on the black market at 66,000 to the dollar, despite the government-set rate being at 42,000 to $1. Many say they have not seen the benefits of the nuclear deal.
Iran's poor economy and unemployment already sparked nationwide protests in December and January that saw at least 25 people killed and, reportedly, nearly 5,000 arrested.
Reuters and AFP contributed to this story.