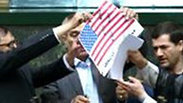 Iranian lawmakers set fire to US flag
Iranian lawmakers set paper US flag ablaze at parliament
In impromptu demonstration over Trump's decision to pull out of nuclear deal, Iranian MPs chant 'Death to America' and burn piece of paper representing the agreement; parliament speaker: 'Trump does not have the mental capacity to deal with issues.'
Iranian lawmakers lit a paper US flag on fire at parliament Wednesday after President Donald Trump's nuclear deal pullout, shouting, "Death to America!"

The lawmakers, including a Shiite cleric, held the flaming flag alight as their colleagues joined their chants. They also burned a piece of paper representing the nuclear deal and stomped on the papers' ashes.

The impromptu demonstration reflected broad public anger in Iran after Trump's decision, which threatens to destroy the 2015 nuclear accord. While Iranian officials, including the parliament speaker, say they hope Europe will work with them to preserve the deal, many are pessimistic.

Iranian lawmakers burn US flag

Iran's parliament speaker Ali Larijani argued that "Trump does not have the mental capacity to deal with issues."

"It is obvious that Trump only understands the language of force," the parliament speaker added.

"Trump's abandoning of the nuclear deal was a diplomatic show," Larijani also said. "Iran has no obligation to honor its commitments under the current situation ... It is a threat to peace and security ... I am not sure whether the European signatories of the deal will fulfill their promises."

Larijani said responsibility for saving the deal fell on the EU and other world powers still in the accord.

"The period is only a window in which the EU can prove if it has enough weight for settling down international issues or not?" he said.

Larijani also urged the Atomic Energy Organization of Iran to prepare for "resumption of all aspects of nuclear activities."

The Iranian lawmakers introduced a motion on Wednesday calling for "proportional and reciprocal" action by the government in the wake of the US pullot from the deal.

Hojatoleslam Mojtaba Zulnouri, who heads the nuclear committee in parliament, said the motion asks President Hassan Rouhani's government to secure "necessary guarantees" from the remaining signatories to the nuclear deal. They include Germany, France, Britain, Russia and China.

Zulnouri, a lawmaker from the city of Qom, did not specify what guarantees should be sought, but said if they are not met then Iran should resume high level uranium enrichment.

Ali Mottahari, a lawmaker from Tehran, said there was a "limited opportunity" for European powers to "bring a solid guarantee" that would allow Iran to stick with the deal. "But if this doesn't happen then it's possible that we will exit the nuclear deal or take other steps," he told news agency IRNA.

General Mohammad Baqeri, the chief of staff of Iran's military, said Iran did not have to sign the deal. "But that arrogant country (America) did not even stand by its signature," the Islamic Republic News Agency (IRNA) quoted him as saying.

Iran's army chief Seyed Abdul Rahim Moussavi offered, "The biggest damage of the Iran deal was legitimizing and sitting at the negotiating table with America."

While US flag-burning is common in Iran and harsh criticism of America has been a staple of Iranian parliamentary politics for years, it was the first time political observers could remember anything being burned inside the parliament itself.

Meanwhile, the chant "Death to America" long has been used in Iran since its 1979 Islamic Revolution and has also been common within parliament.

However, Wednesday's demonstration reflected public anger in Iran after Trump's decision.

The Joint Comprehensive Plan of Action (JCPOA) was struck in 2015 between Iran, the five permanent members of the U.N. Security Council - the United States, Russia, China, Britain and France - and Germany. It imposed restrictions on its nuclear program in return for the lifting of most US and international sanctions.

However, the deal came with time limits and did not address Iran's ballistic missile program or its regional policies in Syria and elsewhere. Trump has repeatedly pointed to those omissions in referring to the accord as the "worst deal ever." Proponents of the deal have said those time limits were meant to encourage more discussion with Iran in the future that could eventually address other concerns.

President Hassan Rouhani said on Tuesday Iran would remain committed to the multinational nuclear deal, designed to deny Tehran the ability to build nuclear weapons, despite Trump's decision to withdraw from it.

"If we achieve the deal's goals in cooperation with other members of the deal, it will remain in place. ... By exiting the deal, America has officially undermined its commitment to an international treaty," Rouhani said in a televised speech.

"I have ordered the foreign ministry to negotiate with the European countries, China and Russia in coming weeks. If at the end of this short period we conclude that we can fully benefit from the JCPOA with the cooperation of all countries, the deal would remain," he added.

Iran's foreign minister, Mohammad Javad Zarif, added on Twitter, "In response to US persistent violations & unlawful withdrawal from the nuclear deal, as instructed by President Rouhani, I'll spearhead a diplomatic effort to examine whether remaining JCPOA participants can ensure its full benefits for Iran. Outcome will determine our response."

Rouhani warned, however, that Iran was ready to resume its curbed nuclear activities if Iran's interests were not guaranteed under a deal without the United States.

"If needed, we will resume our nuclear enrichment at the industrial level without any limit," Rouhani said. "From now on, everything depends on Iran's national interests."
Financial worries in Iran
Many Iranians are worried about what Trump's decision could mean for their country.
The Iranian rial is already trading on the black market at 66,000 to the dollar, despite a government-set rate of 42,000 rials. Many say they have not seen any benefits from the nuclear deal.
Iran's poor economy and unemployment sparked nationwide protests in December and January that saw at least 25 people killed and, reportedly, nearly 5,000 arrested.
Rouhani assured ordinary Iranians, frustrated by high unemployment and stagnant living standards, that Trump's decision would have no impact on Iran's oil-reliant economy.
"Our heroic people will not be affected by this psychological attack ... Iran's economic progress will continue. Our people should not be worried at all," he said.
Trump said in a tougher-than-expected statement he would reimpose economic sanctions on Tehran immediately. His decision puts pressure on his European allies, which are key backers of the deal and are reluctant to join the United States in reimposing sanctions on Iran.
The US Treasury said in a statement on its website the United States would reimpose a wide array of Iran-related sanctions after the expiry of 90- and 180-day wind-down periods, including sanctions aimed at Iran's oil sector and transactions with its central bank.
Iran's supreme leader, Ayatollah Ali Khamenei, whose hostility towards Washington is the glue that holds together Iran's faction-ridden leadership, had said Iran would "shred" the deal if the US pulled out.