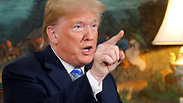 US President Donald Trump
Photo: Reuters
The president who stopped playing by the old rules
Op-ed: Trump is the exact opposite of Obama: The former president questioned America's greatness, its righteousness, its pretension to serve as an example to others. Trump questions nothing. His gut feeling about America's status may be a more efficient foreign policy tool than Obama's scholarly doubts.
US President Donald Trump's speech Tuesday evening and Prime Minister Benjamin Netanyahu's meeting with Russian President Vladimir Putin on Wednesday morning create new rules in Israel's engagement with Iran.

Netanyahu is pursuing a situation in which the United States will prevent an attack on Israel from Iran, and Russia will curb an Iranian attack from Syria. It's a three-way gamble: Netanyahu is relying on Iranian supreme leader Ali Khamenei's caution, on Trump's credibility and on Putin's generosity. These are three qualities which they have failed to demonstrate so far. We should pray that he succeeds, for his sake and for our sake.

Meanwhile, the gamble is working. The Iranians have yet to respond to the two recent strikes that targeted their forces and missiles in Syria. They haven't responded to Tuesday night's attack near Damascus either. IDF officials assume that the wait for Trump's decision on the nuclear agreement postponed the Iranian retaliatory attack, and possibly the need for preparations as well.

Now, they have another reason to practice restraint: The battle over the public opinion in Europe and the European governments' decisions following the American withdrawal from the agreement. Iran can't afford to misbehave.

The gamble is also working with Trump and his new, super-hawkish team—National Security Adviser John Bolton and Secretary of State Mike Pompeo. Trump could have announced an American withdrawal and ended it there. But under the influence of Netanyahu and the new team, he chose to take it one step further. The economic sanctions on Iran will be stepped up and be much harsher than before the nuclear agreement was signed. Hit them in the pocket, Netanyahu advised Trump. If you hit them in the pocket, they'll suffocate, and when they suffocate they'll kick the ayatollahs out. On Tuesday evening, Trump fully adopted this policy.

But what will happen if instead of breaking down, the ayatollahs choose war, or, more likely, if the region finds itself in a state of war as a result of a reckless, uncalculated move of one of the players? Will Trump be willing to open a new front in the Middle East to defend Israel and Saudi Arabia? If he does that, it will be in complete contradiction to everything he promised his voters in the election campaign.

Trump is an interesting man. He is often criticized for his embarrassing performances, his lies and insults, his poor language and his ignorance. From all these aspects, he is the exact opposite of former President Barack Obama. But he is the exact opposite of Obama in another sense: Obama questioned America's greatness, questioned its righteousness, questioned its pretension to serve as an example to others. In his second term in the White House, he didn't act as the world's leader but as its official receiver. Trump questions nothing. His gut feeling about America's status is possibly a more efficient foreign policy tool than Obama's scholarly doubts.

Tuesday's speech allegedly created a wide gulf between the United States and Western Europe. Trump not only rejected the claims made by German Chancellor Angela Merkel, French President Emmanuel Macron and British Prime Minister Theresa May in favor of the agreement, he also scolded them like a teacher scolding slow-witted students.

Will Europe favor Putin's Russia, Xi Jinping's China or even Khamenei's Iran from now on over the alliance with America? I don't think so. The Europeans are more likely to try to buy Iran with money and maintain their alliance with America.

The concern that an American withdrawal would have a negative effect on the reconciliation efforts with North Korea hasn't been verified so far either. Kim Jong-un likely believes that what happened to the nuclear agreement with Iran won't happen to the agreement he will get Trump to sign. Meanwhile, he is hosting the American secretary of state in Pyongyang.

The North Korean model is fascinating: It begins with mutual threats, personal curses and battle cries. And then, suddenly, it turns into a mad love affair. I wonder what will happen if an invitation to a summit with Iranian President Hassan Rouhani suddenly arrives at the White House. One invitation, and Iran's sins will be forgotten.

Netanyahu arrived in Moscow on Wednesday morning, riding on the waves of the Trump speech. Putin appreciates power. Netanyahu tried to convince him that Russia's interest in Syria doesn't match Iran's interest. If Putin wants a quiet summer, a summer that will be dedicated to the World Cup celebrations, he should curb the Iranians' growing strength. He should stop the transfer of precision-guided missiles, prevent the stationing of antiaircraft systems, and stop Suleimani's forces far from the Golan border. The Israeli advice conceals a threat: If Iran keeps doing what it wants, Israel will launch military activities behind Russia's back.

Putin welcomed him with all formalities, and then likely made it clear to Netanyahu that Russia does only what benefits Russia. There are no celebrity discounts in the Kremlin: What Netanyahu failed to achieve in his seven previous meetings won't be achieved in the eighth one.