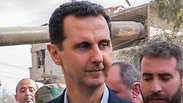 Syrian President Bashar Assad
Photo: AFP
Things could spin out of control, Assad says before escalation
In an interview to a Greek newspaper before Wednesday night's events on Israel's northern border, Syrian president says he hopes his country won't witness a conflict between Israel, Iran and Russia; meanwhile, Minister Erdan says: 'We hold the Syrian regime accountable for everything taking place on its territory. We are neither playing nor bluffing.'
Syrian President Bashar Assad said Wednesday in an interview to a Greek newspaper, before the Iranian attack on the Golan Heights and the Israeli response, that he hoped Syria wouldn't have to witness a conflict between Israel, Iran and Russia, as "things could spin out of control."

Assad added, "I don't think the third world war will begin in Syria because I trust the Russian leadership."

Meanwhile, Israeli ministers commented Thursday morning about the Israeli response to the Iranian attempt to fire 20 rockets at Israeli bases in the Golan Heights. According to the IDF spokesperson, four of the rockets were intercepted and the rest landed on Syrian territory.

"Tonight, we conveyed an important message to Iran and to the Assad regime, a message of determination and strength," said Public Security and Strategic Affairs Minister Gilad Erdan, a member of the Political-Security Cabinet. "Israel won't hesitate to act against the Iranian forces in Syria and will show no mercy towards any attempt to attack the northern residents."

Erdan added, "We won't let the religious and radical regime in Tehran build a military force in Syria that will threaten Israel's citizens. We hold the Syrian regime accountable for everything taking place on its territory. We are neither playing nor bluffing. We are determined to do everything it takes to defend Israel."

Housing and Construction Minister Yoav Galant said, "Well done, IDF. We're going to send the Iranian demon back into the bottle. If Iran looks for adventures in Syria, it will be met with determination and strength."

Knesset Speaker Yuli Edelstein wrote on Twitter, "Israel conveyed a clear message to Iran and to its enemies tonight: The rules of the game have changed. We won't tolerate any threat on our citizens' security and we won't accept an entrenchment of hostile Iranian forces within such a short distance from the border communities."
'The ball is in the Iranian court'
Former Defense Minister Amir Peretz of the Zionist Union faction, chairman of the Subcommittee for the Examination of Home-Front Readiness of the Knesset's Foreign Affairs and Defense Committee, told Ynet that the IDF strike "is major success, both from the intelligence gathering stage, through the real-time monitoring and the ability to move the Iron Dome from one place to another, to the Air Force's extraordinary performance. There is no doubt that the Iranians will have to think twice whether to continue this round or to contain the incident and create calm in the region.
"I assume that opening a direct front with Israel is not an easy decision as far as the Iranians are concerned," Peretz added. "I don't think they will rush into anything. We know the Iranians have a system of analyzing the situation and consulting their different ranks. We saw how long it took them to respond to our attack on their base. We knew this response would arrive, we knew they would do something. It's possible that they expected Israel to avoid retaliation, but it's good that the IDF responded with such resolve."
Knesset Member Peretz added, however, that northern Israel was unprepared for a wider escalation. "What's being done in the south in terms of fortification isn't happening in the north. There are fortification gaps and we need about 2 billion shekels for that. I certainly hope they won't wait for the event itself and that the budgets will be allotted immediately."
Minister Tzachi Hanegbi told Ynet, "The ball is in the Iranian court. We're not the ones who initiated this conflict. We were forced to respond to a very dangerous development which we tried to stop through different diplomatic measures. Once we realized Iran was pursuing aggressive measures against Israel, we were forced to act.
"The Iranians are very weak in the region," he added, "and their goal is to grow stronger. We won't allow them to gain this power. They have the ability to use Hezbollah, and that's something else we are warning them against. Lebanon will pay a very heavy price if that happens."