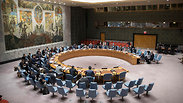 The UN Security Council
Photo: AP
Two-thirds of UN Security Council upset by non-implementation of Mideast resolution
China, France, Kuwait, the Netherlands, Sweden and other members pen letter expressing 'profound concern' at Israel supposedly flaunting 2016 resolution demanding end to settlement building; signatories also ask Sect.-Gen. Guterres to begin submitting written reports on resolution's implementation instead of delivering them orally.
Two-thirds of the United Nations Security Council expressed "profound concern" on Monday that a 2016 resolution demanding an end to Israeli settlement building on land that Palestinians want for an independent state was not being implemented.

A letter to Secretary-General António Guterres from 10 members of the 15-member council coincided with the bloodiest single day for Palestinians since 2014. Israeli troops fatally shot dozens of Palestinian protesters on the Gaza border as the Trump administration opened the US Embassy to Israel in Jerusalem.

"The Security Council must stand behind its resolutions and ensure they have meaning; otherwise, we risk undermining the credibility of the international system," wrote Bolivia, China, Ivory Coast, Equatorial Guinea, France, Kazakhstan, Kuwait, the Netherlands, Peru and Sweden in the letter seen by Reuters.

A month before US President Donald Trump took office in January 2017, the Security Council adopted a resolution demanding an end to Israeli settlements, with 14 votes in favor and one abstention by former US president Barack Obama's administration. Trump had denounced the resolution and called for the United States to wield its veto.

UN Middle East envoy Nickolay Mladenov reported to the Security Council last year that Israel was flouting the demand for an end to settlements, while both parties were ignoring a call to stop provocation, incitement and inflammatory rhetoric.

The signatories to the letter said they were writing "to express our profound concern about the lack of implementation" of the resolution.

The 10 Security Council members also asked Guterres on Monday to start submitting his quarterly reports on the implementation of the resolution in writing instead of orally.

"While there may sometimes be legitimate reasons for oral reports, they should be reserved for exceptional circumstances," the council members wrote.

The resolution also "underlines that it will not recognize any changes to the 4 June 1967 lines, including with regard to Jerusalem, other than those agreed by the parties through negotiations."

The US Embassy move to Jerusalem fulfilled a pledge by Trump, who in December recognized the city as Israel's capital.