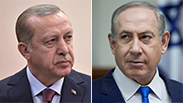 Erdogan and Netanyahu
Photo: Reuters, MCT
Turkey escalates diplomatic crisis further, expels Israeli consul
In tit-for-tat move, Turkish Foreign Ministry asks Israeli consul-general to Istanbul to leave country in response to Israel asking Turkey's consul in Jerusalem to leave, which was a response to Ankara expelling Israeli ambassador in protest of Gaza border deaths.
Turkey temporarily expelled Israel's consul-general in Istanbul late Tuesday night after expelling the Israeli ambassador to Ankara earlier in the day in protest of the high death count in clashes between Palestinians and the IDF on the Gaza border.
In response to the expulsion from Ankara of Israeli Ambassador Eitan Na'eh, the Israeli Foreign Ministry summoned the Turkish Consul in Jerusalem, Hüsnü Gürcan Türkoğlu, and asked him to leave the country until further notice.
This led the Turkish Foreign Ministry to summon Israel's Consul-General in Istanbul, Yosef Levi Sfari, and ask him too to leave the country until further notice.
None of the diplomats have been declared persona non grata, and the expulsions are temporary.
Ankara had already recalled its ambassadors from the United States and from Israel "for consultations" in response to the Gaza border clashes and called for an emergency meeting of the Organization of Islamic Cooperation, which Turkey currently chairs.
Turks protest US Embassy move in Istanbul (רויטרס)
Relations between the two countries have become especially tense in recent days.
Turkish President Recep Tayyip Erdoğan has been very vocal in his criticism of Israeli handling of the rioting on the Gaza border, during which mostly young Palestinians encouraged by Hamas have been trying to breach the border fence and enter Israel in what has been dubbed the "Great March of Return."
Over 100 Palestinians were killed in border clashes since the "Great March of Return" campaign began in March, with 60 killed on Monday alone.
Erdoğan and Netanyahu have been exchanging barbs over the past two days in the wake of the Turkish president's harsh criticism of Israel.
In an interview with Bloomberg Tuesday, Erdoğan said that were "two people responsible: US President Donald Trump and Prime Minister Benjamin Netanyahu."
Erdoğan was also highly critical of the American decision to move its embassy from Tel Aviv to Jerusalem, as the new embassy opened in the capital on Monday.
On Tuesday, Turkish opposition parties joined in the condemnation of Israel for the events on the Gaza border; they even called for the annulment of the
reconciliation agreement
signed between the two countries.