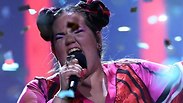 Eurovision winner Netta Barzilai
Photo: AFP
22,000 Icelandic citizens sign petition against next year's Eurovision in Israel
Icelandic citizens sign petition to boycott next year's Eurovision Song Contest, taking place in Israel, following Gaza border riots; Iceland's national public broadcasting organization convenes to discuss issue; Icelandic human rights organization attempts harnessing other European countries to boycott next year's contest.
Iceland's RÚV national public broadcasting organization is expected to convene in the near future to decide whether Iceland will cancel its participation in next year's Eurovision Song Contest—set to take place in Israel following Netta Barzilai's win last week with "Toy"—Icelandic media reported.

Some 22,000 of Iceland's citizens signed an online petition demanding to boycott the contest, in the wake of the Gaza border violence and Israel's policy towards Palestinians.

More than 10,000 people signed the petition just several hours after it went online on Tuesday, one day after violent incidents and dozens of fatalities in Gaza border riots.

"Due to Israel's violation of the Palestinians' human rights, it would be immoral for us to take part in a glamorous contest such as the Eurovision, considering violence Israel is exerting on its neighbors."

Netta Barzilai's Eurovision win (קרדיט: באדיבות כאן 11)

"During the past few months, Israel has killed dozens of people whose only crime was to protest the situation in Gaza," according to the petition.

An RÚV committee convened Tuesday to discuss the matter, while a decision regarding the aforementioned matter is expected to be reached during a second meeting that will take place in June.

RÚV senior member Skarphéðinn Guðmundsson said in an official media statement that Iceland's participation in next year's Eurovision in Israel had been up for discussion within the broadcasting department and assured the issue would be reviewed.

Guðmundsson added RÚV's people will discuss the matter with other Nordic television stations before reaching their decision.

Even before the online petition, however, Iceland criticized holding the Eurovision in Jerusalem, with one the country's organizations responsible for Iceland's relations with the Palestinian Authority saying it would be a move detrimental to Palestinians' human rights.

"We regret that Europe is not supporting human rights by choosing to hold next year's Eurovision in Israel," the organization stated.

Several human rights organizations joined the statement, attempting to harness other European countries to join the petition.