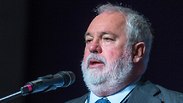 European Commissioner for Energy and Climate Miguel Arias Canete
Photo: EPA
Iran: EU promises to salvage nuclear deal despite Trump move
EU Commissioner for Energy and Climate visits Tehran to reassure Islamic Republic that Europe is committed to nuclear deal; but Iran's nuclear chief says Tehran has several options if efforts fail, including resuming 20% uranium enrichment.
The European Union's energy chief tried to reassure Iran on Saturday that the bloc remained committed to salvaging a nuclear deal with Tehran despite US President Donald Trump's decision to exit the accord and reimpose sanctions on the country.

The European Commissioner for Energy and Climate, Miguel Arias Canete, delivered the message during a visit to Tehran and added that the 28-nation EU, once the biggest importer of Iranian oil, also hoped to boost trade with Iran.

"We have sent a message to our Iranian friends that as long as they are sticking to the (nuclear) agreement the Europeans will... fulfil their commitment. And they said the same thing on the other side," Canete told a news conference.

"We will try to intensify our flows of trade that have been very positive for the Iranian economy."

During his visit to Tehran, Canete is expected to meet with five top Iranian minister over two days, including the Islamic State's nuclear chief, oil minister and foreign minister.

Iran's nuclear chief Ali Akbar Salehi said his country hoped the EU would manage to salvage the 2015 deal, in which Tehran agreed to curb its nuclear program in return for the lifting of most Western sanctions.

"We hope their efforts materialize ... America's actions ... show that it is not a trustworthy country in international dealings," Salehi told the joint news conference in Tehran.

EU leaders have united behind the 2015 accord, with Brussels considering banning EU-based firms from complying with the sanctions that President Donald Trump has reimposed and urging governments to make money transfers to Iran's central bank to avoid fines.

But EU officials admit there is a limit to what they can do to parry sanctions as a wave of European companies quit business with Tehran, fearing the global reach of US sanctions.

"There is no magic wand beyond trying to offer Iran a bit of reassurance," a senior EU official involved in Iran talks told Reuters.

Britain, France and Germany back the deal as the best way of stopping Tehran getting nuclear weapons, but have called on Iran to limit its regional influence and curb the missile program.

Salehi, echoing Iran's official stance, ruled out any possibility of renegotiating the accord.
'All kinds of possibilities'
Salehi said Iran had several options, including resuming its 20 percent uranium enrichment, if the European countries failed to keep the pact alive. He said the EU had only a few weeks to deliver on their promises.

"If the other side keeps itself committed to its promises, we also will be keeping ourselves to our promises ... We hope the situation will not arise to the point that we will have to go back to the worst option," Salehi told reporters in English.

"There are all kind of possibilities, we can ... start the 20 percent enrichment."

Under the 2015 deal, Iran's level of enrichment must remain at around 3.6 percent. Iran stopped producing 20 percent enriched uranium and gave up the majority of its stockpile as part of the agreement.

Uranium refined to 20 percent fissile purity is well beyond the 5 percent normally required to fuel civilian nuclear power plants, although still well short of the highly enriched, or 80 to 90 percent, purity needed for a nuclear bomb. Iran has struggled to reap benefits from the accord, partly because of remaining unilateral US sanctions that have deterred major Western investors from doing business with Tehran.

Iranian officials have tried to assure ordinary Iranians, frustrated by high unemployment and stagnant living standards, that Trump's decision would have no impact on the country's oil-reliant economy. "Unfortunately because of the negative interferences of the US, we were not able to reap the fruits of the JCPOA (Joint Comprehensive Plan of Actions) we expected," Salehi said.

"So the public opinion is not as supportive as it was before and if the other side does not deliver... we will keep losing the support of our people for the JCPOA."
A symbolic gesture
The mission led by Canete is a symbolic gesture to urge Iran's leadership to stick to the nuclear deal and shore up support for the relatively moderate President Hassan Rouhani against hardliners looking to constrain his ability to open up to the West, EU officials said.
"The mission is very important to us because it shows the EU's determination to stand by its commitment," a senior Iranian official said.
Europe sees the pact, limiting Iran's nuclear activities in exchange for the relaxation of economic sanctions, as vital for international security.
With the reimposition of US sanctions threatening the accord's economic payoff for Tehran, EU diplomats worry they will lose what little sway they have in the Islamic Republic.
Canete will raise with Tehran the possibility of EU governments bypassing the US financial system by making direct payments to Iran for oil exports and to repatriate Iranian funds in Europe - though the move will be up to member states.
In other efforts to shield European firms, the EU's "blocking statute" would ban EU companies from complying with US sanctions and does not recognize any court rulings that enforce American penalties.
The EU is also seeking to allow the European Investment Bank to do business in Iran and to scale up euro-denominated credit lines from EU states.
But some big names are already heading for the door. French energy group Total said it may quit a multi-billion-dollar gas project that Tehran had repeatedly hailed as a symbol of the nuclear accord's success.
The first sanctions to snap back into place are limits on Iranian oil exports that choked off more than half of Iran's oil exports after 2012 - largely due to European and Asian buyers cutting back.
"One of the big factors for how the Iranians will react is what oil importers will do and how well the energy system can cope," another EU official said.
"It will be difficult for us to deliver on the benefits the Iranians are expecting."