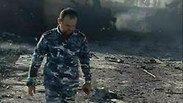 Photos published Saturday show the destruction to the military airport in Hama, where several explosions occurred on Friday night.

Eleven people were reported killed in the explosions, with dozens others wounded or considered missing.




The Syrian Observatory for Human Rights, a Britain-based war monitor, said the series of explosions happened inside Hama's military airport and had been heard in Hama city.

"Five blasts at least were heard inside Hama military airport ... targeting ammunition and fuel depots," the Observatory added.

A Syrian military official told local media the blasts had been caused by technical failure inside the depots.

Sky News Arabia, however, reported the explosion was likely an Israeli attack on a stockpile of missiles used by the Bavar-373, the Iranian version of the Russian S-300 missile defense system.

Syrian citizens reported seeing an aerial attack, but Syrian official has yet to point the finger at Israel.

The Hama air base is used by government warplanes that carry out airstrikes on central and northern Syria.

Israeli aerial strikes on Iranian weapons stockpiles have increased recently, with the latest being one of the heaviest Israeli barrages in Syria since the conflict there began in 2011; 50 Iranian targets in the country were bombarded after 20 missiles were fired at Israeli military bases in the Golan Heights.