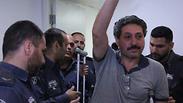 Mossawa Center Director Jafar Farah
Photo: Ahiya Raved
Human rights activist accuses policeman of intentionally breaking his leg
Director of human rights center alleges in court policeman intentionally kicked his leg, broke his knee while he was in police custody; Public Security Minister Erdan calls for criminal investigation against Joint List Chairman MK Odeh for disobeying, swearing at police officers on duty.
During a remand extension hearing at the Haifa Magistrates' Court held Sunday evening one of the detainees—Director of the nonprofit Mossawa Center Jafar Farah—spoke about the circumstances leading to his leg being broken and alleged it was intentionally broken by a policeman after he was arrested at a protest rally.

The remand hearing brought before a judge protesters arrested this past Friday in a demonstration in the northern city against Israel's policy on the Gaza border clashes. During the protest, Farah, who heads a center that promotes equality for Arab citizens in Israel, was arrested and his leg was later broken.

"I came to the rally to look for my son and found myself arrested, and have been for 48 hours now," Farah said in court. "While I was in custody, one of the Haifa policemen saw fit to kick me in the leg and broke my knee."

When Farah's part in the hearing concluded, he was taken back to the city's Bnei Zion Hospital. Police announced earlier in the day that despite the fact that 48 hours had elapsed since the incident, they had still not discovered what led to Farah's leg being broken.

Public Security Minister Gilad Erdan iterated in a tweet his support of a Police Investigations Unit's probe into the matter, saying only "an impartial external body could ascertain" the facts of the case.

The nonprofit's director, who attended the hearing on crutches, was met with applause from his assembled supporters. Farah is one of 19 suspects detained Friday who are still in custody, as two were released earlier.

Police have demanded an extension of five days to their arrest and accused them of a multitude of offenses, including assaulting an officer in the line of duty, disturbing an officer in the line of duty, maliciously damaging property, participating in an unlawful gathering, unruly behavior in a public place and conduct that may disturb the peace.

Friday's protest in Haifa (צלם: עודד גלעד)

A police representative claimed during the hearing that the protest turned violent, and included "throwing stones at a police force, damaging property, attempts to block traffic and disruption of the public order."

"The Israel Police allows the holding of demonstrations and protests throughout the year," he added. "Having said that, it will adamantly act against rioters and anyone threatening the public's safety or acting against Israel's character as a democratic state or against the rule of law."

Three simultaneous rallies were held in the northern city Sunday decrying the alleged police brutality perpetrated against Friday's demonstrators. Some 200 people congregated outside the court, waved Palestinians flags and called to release all detainees.

One man was arrested on suspicion of attending the protest despite being barred by the court to do so.

Two more protests were held in the city, one organized by residents calling to preserve coexistence in Haifa and another by left-wing organizations that voiced their support for the people of Gaza.

Farah's wife Ismahan attended the protest opposite the court and told Haifa Radio that she "felt terrible. I never expected police's conduct to reach that far. We're law abiding people, civilized people. You don't need to send hoodlums like the ones (at the protest)."

"Haifa is a part of Israeli society, which is becoming more and more violent, right-leaning and intolerant—not just of Arabs but left-wingers as well. Who dares to say in public they belong to the Left anymore? The state needs to take a close look at what's happening here. If they're against me today, tomorrow they'll be against other minorities—Druze, Russians or Ethiopians," she concluded her accusation.

Public Security Minister Erdan, meanwhile, contacted Attorney General Avichai Mandelblit demanding he open a criminal investigation against MK Ayman Odeh, on the heels of footage of the Joint List chairman swearing at policemen over the weekend when attempting to visit Farah in hospital.

"The video published on social media over the weekend," Erdan wrote Mandelblit, "showed MK Odeh levying deplorable statements at policemen carrying out their duties, intentionally ignoring their instructions and acting willfully to hamper their ability to carry out their duty."

"There's no need to stress to you the importance of following the instructions of police officers on duty," Erdan continued, "especially as it pertains to an elected official."

Consequently, Erdan asked the attorney general to open an investigation against Odeh and his cohorts for disrupting an officer in the line of duty, insulting a public official, breaking a legal order, threats and "any other offense stemming from his conduct in the video, or discovered by an investigation of the incident and those involved in it."