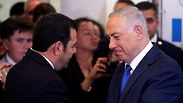 Netanyahu and Morales
Photo: Reuters
Guatemala inaugurates embassy in Jerusalem
Following in the footsteps of the US, Guatemala's President Jimmy Morales arrives in Israel to open the country's embassy in the capital; Netanyahu: 'Israel and Guatemala share so many goals and so many values. Even though we are seemingly far away, we're not really far away.'
Guatemala's President Jimmy Morales inaugurated his country's embassy in Jerusalem on Wednesday, following in the footsteps of the United States, which opened its own embassy in the capital earlier this week.

"It's not a coincidence that Guatemala is opening its embassy in Jerusalem among the first, you were always among the first," Netanyhu said at the outset of his remarks at the ceremony.

"You were the second country to recognize Israel, but you had a very important role in this," he went on to say, explaining that "Your ambassador to the United Nations, Jorge Granados, was very active in lobbying the countries at the UN at the time to support the Partition Resolution, which was effectively the recognition of the Jewish state by the United Nations."

"In his honor, and in honor of Guatemala's efforts in those days, there's a Guatemala Street right here, about a kilometer from here, in Jerusalem. There's a Guatemala Street in many cities and many communities in Israel, because we remember our friends, and Guatemala is our friend—then and now," he added.

Netanyahu noted that Israel and Guatemala "share so many goals and so many values. Even though we are seemingly far away, we're not really far away."

Netanyahu at the Guatemala Embassy opening in Jerusalem (צילום: רוני קנפו)

"In this spirit of friendship and a common bond, we welcome you to Jerusalem for the opening of this embassy," the prime minister said. "I look forward to discussing with you the practical ways that we can advance this friendship and this alliance."

Netanyahu also promised to visit Guatemala in his next trip to Latin America.

Also attending the ceremony were Jerusalem Affairs Minister Ze'ev Elkin, Economy Minister Eli Cohen, and Jerusalem Mayor Nir Barkat, as well as US Ambassador to Israel David Friedman.

"Today we mark a historic day in the friendly relations between Guatemala and Israel," Morales said on Twitter ahead of the event.

On Tuesday night, the walls of Jerusalem's Old City were illuminated with the flags of Guatemala, Israel, and the US and a message thanking President Jimmy Morales for the embassy opening.

"Guatemalan Embassy, welcome home!" said Jerusalem Mayor Barkat, thanking "President Jimmy Morales Cabrera of Guatemala for his courageous decision," and calling upon other countries to "join the United States and Guatemala—do the right thing and bring your embassies to the Jerusalem, our eternal capital!"

Morales first announced his plans to move his country's embassy to Israel's capital in December.

"Dear citizens of Guatemala, I have spoken with Israeli Prime Minister Benjamin Netanyahu today. We spoke about the excellent relations our countries have enjoyed since we supported Israel's creation. One of the important topics broached were transferring the Guatemalan Embassy to Jerusalem, and I hereby announce I have instructed the embassy's staff to plan such a move. May God bless you," Morales wrote on his Facebook page.

Morales revealed the

date for the embassy move

in March during a speech at the American Israel Public Affairs Committee's (AIPAC) annual policy conference in Washington.

"I would like to thank President Trump for leading the way. His courageous decision has encouraged us to do what is right," Morales said, according to a translation of his remarks on the pro-Israel US lobbying group's website.

Guatemala was one of only a handful of countries that backed US President Donald Trump's December decision to recognize Jerusalem as the capital of Israel, and it was the first country besides the United States to set a date for moving its embassy there. Trump's move reversed decades of US policy, upsetting the Arab world and Western allies.

Afterward, 128 countries

defied Trump

by backing a non-binding UN General Assembly resolution calling for the United States to drop its recognition of Jerusalem—a resolution Washington then

vetoed

.

Prior to 1980, Guatemala and a dozen other countries maintained an embassy in Jerusalem. Israel's passage in June 1980 of a law proclaiming Jerusalem its "indivisible and eternal capital" led to a UN Security Council resolution calling on Guatemala and several other countries to move their embassies to Tel Aviv, prompting their transfer.

Morales said his decision to return the Guatemalan embassy to Jerusalem "strongly evidences Guatemala's continued support and solidarity with the people of Israel."

Morales, a former comedian, has garnered widespread support from the conservative Christians in Guatemala, and has also found himself in hot water with the United Nations this year after one of the international organization's agencies attempted to impeach him for alleged corruption.

While Morales kept his seat, he has attempted to remove the chairman of the organization—the International Commission against Impunity in Guatemala—that tried to remove him, and was widely criticized for it by the UN, US and European Union.

Paraguay has said it will move its embassy from Tel Aviv to Jerusalem by the end of May.

Reuters contributed to this report.