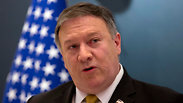 US Secretary of State Mike Pompeo
Photo: AP
Pompeo issues steep demands for nuclear treaty with Iran
In first bid to begin fresh negotiations for new nuclear deal, US secretary of state vows to 'apply unprecedented financial pressure' to bring Tehran back to the table, sets out 12 key demands, orders Iran to withdraw all forces' from Syria, halt support for its ally Hezbollah and stop threatening Israel.
Secretary of State Mike Pompeo issued a steep list of demands Monday that he said should be included in a nuclear treaty with Iran to replace the Obama-era deal, threatening "the strongest sanctions in history" if Iran doesn't change course.

Following President Donald Trump's withdrawal from the deal, the United States will ensure "Iran has no possible path to a nuclear weapon, ever," Pompeo said. As he called for a better agreement to constrain Iran's activities, he said the US would "apply unprecedented financial pressure" to bring Tehran back to the table.

"These will end up being the strongest sanctions in history by the time we are complete," Pompeo said at the conservative Heritage Foundation, his first major policy speech since taking over as top diplomat.

Mike Pompeo's speech on Iranian sanctions (צילום: רויטרס)

Pompeo's list of 12 requirements included many that Iran is highly unlikely to consider.

He said Iran must "stop enrichment" of uranium, which was allowed within strict limitations under the 2015 deal. Iran must also allow nuclear "unqualified access to all sites throughout the country," Pompeo said, alluding to military sites that were off-limits under the 2015 deal except under specific circumstances. To that end, he also said Iran must declare all previous efforts to build a nuclear weapon, reopening an issue that the UN's International Atomic Energy Agency has already deemed a closed matter.

Pompeo also demanded that Iran cease from a range of activities throughout the Middle East that have long drawn the ire of the US and its allies. He said Iran must end support for Shi'ite Houthi rebels in Yemen, "withdraw all forces" from Syria, halt support for its ally Hezbollah and stop threatening Israel.

Iran must also "release all US citizens" missing in Iran or being held on "spurious charges," he said.

At the same time, Pompeo offered Iran a series of dramatic potential US concessions if it agrees to make "major changes." Under a new agreement, the US would be willing to lift all sanctions, restore full diplomatic and commercial ties with Iran, and even support the modernization of its economy, Pompeo said.

"It is America's hope that our labors toward peace and security will bear fruit for the long-suffering people of Iran," Pompeo said.

Pompeo's speech came after Trump earlier this month infuriated US allies in Europe by withdrawing from the 2015 deal brokered by President Barack Obama, Iran and world powers. Europeans allies had pleaded with Trump not to scuttle that deal and are now scrambling to keep the deal alive even without the US.

But the Trump administration has held out hope that those same allies will put aside that frustration and work with the US to ramp pressure back up on Iran through sanctions in a bid to bring Tehran back to the negotiating table for a stronger deal.

Pompeo said he understood that Trump's decision "will pose financial and economic difficulties for a number of our friends." But he warned them that the US planned to follow through with threats to punish European companies that continue doing business with Iran that is allowed under the deal but will violate reimposed US sanctions.

"I know our allies in Europe may try to keep the old nuclear deal going with Tehran. That is their decision to make," Pompeo said. "They know where we stand."

Pompeo warned that if Iran fully resumed its nuclear program Washington would be ready to respond and said the administration would hold companies doing prohibited business in Iran to account.

"Our demands on Iran are not unreasonable: give up your program," Pompeo said, "Should they choose to go back, should they begin to enrich, we are fully prepared to respond to that as well," he said, declining to elaborate.
IRAN LEADERS
The speech did not explicitly call for regime change but Pompeo repeatedly urged the Iranian people not to put up with their leaders, including President Hassan Rouhani and Foreign Minister Mohammad Javad Zarif.
"At the end of the day the Iranian people will get to make a choice about their leadership. If they make the decision quickly, that would be wonderful, if they choose not to do so we will stay hard at this until we achieve the outcomes I set forward," said Pompeo.
Pompeo's demand that Tehran stop uranium enrichment goes even further than the nuclear deal. Iran says its nuclear work has medical uses and will produce energy to meet domestic demand and complement its oil reserves.
European parties to the nuclear deal—France, Britain and Germany—are working to find a way to keep the nuclear pact in effect after Washington's exit.
Pompeo said Washington would be open to a new treaty and wanted the support of America's allies, not just in Europe.
He said the administration will work to address concerns of its allies but over time hoped they would recognize that the Trump administration's strategy on Iran was the right one.
"There are scores of countries around the world that share our concerns and are equally threatened by the Iranian regime and it is that shared interest which will ultimately drive, I believe, a global response to the world's largest state-sponsor of terrorism," Pompeo said.
Iran's President Rouhani reportedly responded to Pompeo's remarks, saying it was not for the United States to make decisions on Iranian policy.
"Who are you to decide for Iran and the world? The world today does not accept America to decide for the world, as countries are independent ... that era is over ... We will continue our path with the support of our nation," ILNA quoted Hassan Rouhani as saying.
Reuters and Associated Press contributed to this report.