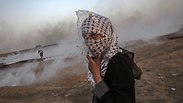 Palestinians riot near Gaza border fence, last week
Photo: EPA
An IDF force fired at a group of Palestinians that had approached the Gaza border fence in the al-Bureij area Tuesday morning.

According to a Palestinian report, the Palestinians managed to return to the Gaza Strip after trying to vandalize an abandoned IDF post. It was unclear whether they were wounded.

The Palestinians further reported that IDF tanks fired at a Hamas post in the area of the incident, in northern-central Gaza, likely in response to the infiltration attempt.

The IDF Spokesperson's Unit said the army had attacked the Hamas post after a number of terrorists who had crossed the border torched a military post. There were no reports of injuries. The IDF said the incident was monitored by a military force as soon as it began.

The rules of engagement on the Gaza border have been stepped up in the past month and forces are permitted to open fire at Palestinians trying to vandalize military infrastructures near the fence, even if those Palestinians are unarmed.

In a separate incident, a quadcopter launched from Gaza landed in the Shaar HaNegev Regional Council. According to the IDF, "The quadcopter is now being examined."
Humanitarian projects to be implemented in Gaza
Meanwhile Tuesday, the London-based Al-Hayat newspaper reported that a multilateral international agreement had been reached to create a distinction between the humanitarian situation and the political situation in the Gaza Strip. The agreement will make it possible to carry out humanitarian projects through the United Nations.
According to Western diplomatic sources, talks held recently between representatives from the American administration, the UN, Arab states and Western states led to the idea of implementing humanitarian projects in the strip at a cost of $600 million in the next five months.
IDF officials have estimated that Hamas will hold the fence protests in abeyance, at least until Naksa Day early next month, when the Palestinians mark the Arab defeat in the Six-Day War.
Southern Command officials believe Hamas is at a crossroads and will decide on its next step only after exhausting the "March of Return" plan, initiated and planned by Yahya Sinwar. The Hamas leader in Gaza was the person who decided to lower the flames in light of the Gazans' failure to break through the border fence.