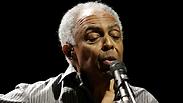 Gilberto Gil
Photo: Yaron Brener
Brazilian musician Gilberto Gil has cancelled his July 4 concert in Israel in light of the "sensitive" situation in the country.

In a letter to the Israeli production company in charge of his show, Gil's representatives wrote: "We are very sorry, but after careful consideration with our artists and band, we will not be able to perform in Israel this year. The general sentiment of all is one of apprehension, as Israel is going through this sensitive moment.

"We expect your understanding, as this matter is also delicate for us," the letter said. "We love Israel and have always felt warmly welcomed. There will surely be other opportunities and we will be hoping for better times."

The show's production in Israel said all ticket purchases would be able to receive a refund from the place that sold them the tickets. "The production regrets the cancellation and hopes to schedule a new concert date next year."

Gil, 76, a legendary Brazilian singer, guitarist and songwriter and a key figure in the Música popular brasileira and tropicália movements of the 1960s, was scheduled to perform at the Ra'anana Amphitheater alongside fellow Brazilian musician Caetano Veloso on July 4. He has performed in Israel several times before, most recently in the summer of 2015.