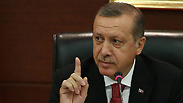 Turkish President Recep Tayyip Erdoğan
Photo: AP
Israel will be harming itself if it chooses to recognize the Armenian Genocide, Turkey warned on Friday in the latest verbal sparring match that has bedevilled the two countries' relations in recent weeks.

The warning comes two days after Knesset Speaker Yoel (Yuli) Edelstein said Wednesday that "Israel must recognize the Armenian Genocide," signalling a potential departure from years-long Israeli policy to refrain from granting recognition to the Ottoman government's systematic murder of 1.5 million Armenians.

"We believe that the fact that Israel is placing the events of 1915 on the same level as the Holocaust will cause harm to (Israel) itself," said a spokesman for Turkey's Foreign Ministry to a group of journalists.


The Knesset approved a proposal by Meretz leader Tamar Zandberg and MK Itzik Shmuli (Zionist Union) for an order calling on Jerusalem to recognize the genocide of the Armenian people between 1915 and 1917—which has also been called the Armenian Holocaust—with 16 supporting the move, and 10 opposing it in the sparsely-filled chamber.

MK Shmuli hailed the "important" discussions after the Knesset vote and was confident that Ankara would not cut ties with Jerusalem if the bill was adopted.

"MKs from the coalition and from the opposition have expressed great support for the bill proposal," Shumli said in an interview with Ynet.

"There have already been states that have recognized the massacre and the Turkish responsibility and Turkey has not dared to nullify its diplomatic relations with them," he added, before attacking the Turkish President Recep Tayyip Erdoğan for his repeated scathing remarks against Israel.

"Even in these days, when the barbaric and anti-Semitic sultan from Ankara dares to preach morality to the State of Israel, when he bombs the Kurds every day in northeastern Syria," the MK said, adding that "I imagine that apart from the Joint List, the bill will be supported."

Despite extensive historical research into the Ottoman Turks' extermination of the Armenian population, Ankara disputes the figure of 1.5 million, insisting that it was significantly lower and arguing that the victims died as part of the civil war rather than a systematic murder program.

For years, the sensitive issue has been a focus of Turkey's foreign policy, with the country applying pressure on countries to refrain from recognizing it as a genocide and imposing sanctions on those who do.

In April 2015, the world marked 100 years since the beginning of what some historians describe as the first holocaust. The same month, Turkey recalled its ambassador from the Vatican after Pope Francis described it as a genocide.

The European Parliament further sparked Turkey's anger when it passed a non-binding resolution to commemorate the genocide of the Armenian people.

Last Friday, Erdoğan compared the actions of Israeli troops in Gaza to Nazi Germany's treatment of Jews in World War Two, further denting the two countries' ties.