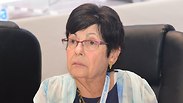 Former Chief Justice Naor
Photo: Yair Sagi
Former Chief Justice Miriam Naor on Sunday lambasted attempts to pass legislation that would allow the Knesset to re-enact laws that were rejected by the High Court of Justice, thereby overriding it.

"In what world do you want to live? In a world where the court lacks authority?" she fumed, slamming the coalition's unwarranted "assumption" there is a need for such a thing.

Naor's remarks were made at the 18th annual conference of the Israel Bar Association (IBA). The event took place in Eilat, with Knesset Speaker Yoel (Yuli) Edelstein in attendance.

The override power, sponsored by Ministers Naftali Bennett and Ayelet Shaked (Bayit Yehudi), was pushed after the HCJ struck down three drafts of the government's migrant deportation bill it said were against Israel's constitution.

Naor criticized the attack on the HCJ she said was clearly in response to the bills' rejections, calling it "unjustified."

"There was a need to disqualify three specific provisions of the bills that, in the opinion of the court, or at least most of it, did not comply with the Basic Law: Human Dignity and Liberty," she stressed, asking why the Knesset would want to override them.

"They (the asylum seekers—ed) do not have to be concentrated in south Tel Aviv and become a source of social turmoil," added Naor. "The residents of south Tel Aviv demonstrated near my home for weeks towards the end of my term because of our rulings. I understand them, but I think that the situation should not be this way (in the first place) and there are legal means to disperse populations."

IBA President Efraim (Efi) Nave backed Naor's assertions, saying it the wrong way for the government to reach a settlement with the court on such a sensitive issue.

"One can easily reach an (acceptable) outcome without confronting the Supreme Court. For instance, when you want to annul a law, (you can make it so) it has to be done by (the majority) of a large panel of judges, and the justice minister can influence the appointment of judges—so (the government) can achieve the same result without creating antagonism," Nave explained.

Deputy Attorney General Raz Nizri, though, claimed the legislation may be needed due to the current hamstringing conflicts between the government's three branches, particularly between the legislature and the judiciary.

"The relationship between the government branches is lame and requires an overhaul," he affirmed, making it clear it would require amendments to the Basic Law: Human Dignity and Liberty.

"This proposal is not the end of democracy. In the name of the Attorney General, we oppose the notwithstanding clause (the override power), but cannot say that it is unconstitutional."