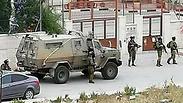 IDF forces in al-Am'ari refugee camp
Thirteen Palestinians were injured at least five were arrested Monday in clashes with IDF forces in the al-Am'ari refugee camp on the outskirts of Ramallah during an operation to capture the terrorist who killed 20-year-old Staff Sgt. Ronen Lubarsky last week.

The terrorist dropped a marble slab on Lubarsky's head, leaving him critically wounded. The soldier from the elite special operations force Duvdevan Unit succumbed to his wounds on Saturday.

He was laid to rest later the same day day as IDF forces intensified efforts to apprehend the terrorist who is still at large.

The IDF, in joint operations with the Shin Bet, increases its prevention activities by, inter alia, arresting potential suspects every year ahead of the holy month of Ramadan—a volatile month in which many terror attacks have taken place over the years.

Usually, the IDF encircles and besieges a camp after a terror incident occurs, sometimes partially, even if the terrorist has already been neutralized and arrested during the attack.

This, the IDF says, is done to catch any potential accomplices the terrorist may have had, to prevent copycat attacks coming out of the village or camps by people who may have known the culprit, and to prepare for a raid on his home to gather evidence and testimonies against him.

The army refrained from doing so after Lubarsky was wounded because the attack did not seem deliberate. The IDF maintains that such protocols are used only out of operational necessity to catch terrorists on the run or potential terrorists, rather than as punishment for an attack.

Violent outbreaks by Palestinian residents of the West Bank during raids such as the one Lubarsky operated in are not uncommon, nor is it rare for them to throw heavy blunt objects at the soldiers in an attempt to drive them out of the village or to harm them.

In fact, soldiers are often pelted—sometimes at close range—with washing machines, refrigerators and heavy furniture when they operate in the West Bank's refugee camps.

Incidentally, Lubarsky's unit was in the camp to act as a covering force working in conjunction with another unit tasked with finding and arresting "several terrorists who carried out attacks in the past" by the Shin Bet.

While the operation had a specific purpose, it caused an uproar in the village which later deteriorated into a full-blown riot, with the army using crowd control measures to disperse rioters.

At the time, an IDF official announcing the incident remarked that "the terrorist who dropped the marble slab was not arrested. The force didn't open fire at the source because it didn't accurately identify it."